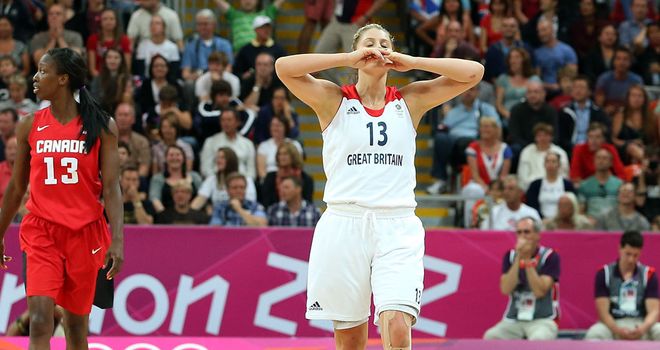 Great Britain suffered a narrow defeat to Canada
Great Britain's hopes of a first Olympic women's basketball win were dashed in the final minutes as they lost a nailbiting clash 73-65 to Canada on Monday night.
Britain had led by four late in the fourth quarter but their opponents finished on a 16-4 charge to snatch victory.
The hosts were hanging on Canada's coattails for most of a close match before finding momentum late on to take the lead in the final minutes.
But just as quickly, Canada stole back the initiative to record their first win of the London Games.
Courtnay Pilypaitis opened the scoring with a three-pointer for Canada, but Britain quickly replied through Jo Leedham.
The teams traded baskets until a turnover from Julie Page allowed Lizanne Murphy to nail a three and give Canada a 14-10 lead.
But every time Canada threatened to break clear, Britain hit back, finding their range from behind the three-point line to stay in touch.
Chelsea Aubry had given Canada a 21-15 bulge, but Natalie Stafford and Azania Stewart hit shots before Leedham's three put Britain on top.
Advantage
Canada soon stole the advantage back, though, and another Pilypaitis three helped them build a 36-32 lead at the break.
Krista Phillips got the first points of the second half but Jenaya Wade-Fray replied immediately.
Canada threatened to pull clear when Pilypaitis put them 46-39 up, but Leedham's deep three halted their charge.
Stef Collins went coast-to-coast and then Kim Butler's jump-shot made it 49-48 in favour of Canada.
After Rose Anderson got one to drop, Britain ended the third quarter down 55-53.
Stafford tied it early in the fourth quarter to provoke a huge response from the crowd before Leedham's steal and basket gave Britain a 59-57 edge.
Page went to the line to add two but Britain squandered two chances to add to their lead before Natalie Achonwa replied for Canada.
Wade-Fray missed a three and Thorburn tied it up 61-61.
On top
Smith then put Canada back on top after a scrappy spell for both teams and a three from Thorburn gave them breathing space.
Temi Fagbenle ended a 9-0 Canadian charge with two minutes left on the clock but Alisha Tatham hit right back and Achonwa added another to make it 70-63.
Page's lay-up gave Britain hope but Canada closed it out with free throws.
Leedham and Stafford led Britain with 15 points apiece while Thorburn had 18 for the Canadians.