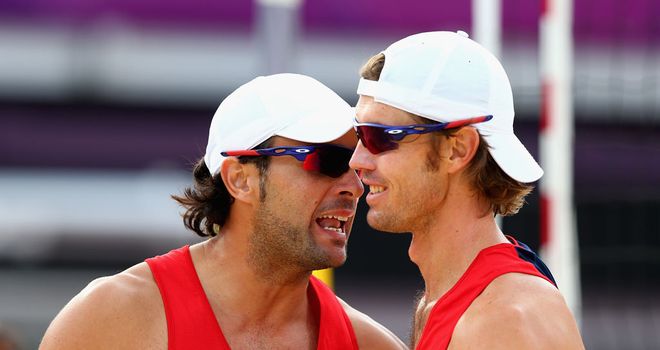 Steve Garcia-Thompson and John Grotowski: Lost again
Great Britain's beach volleyball duo Steve Grotowski and John Garcia-Thompson suffered a second straight defeat at Horse Guards Parade as they lost 2-0 against Brazil on Monday.
The pairing of Ricardo Santos and Pedro Cunha simply had too much power and experience for the British duo, who now must win their final Pool F match against Norway on Wednesday and hope other results go their way if they are to avoid elimination.
The customary boisterous crowd at the 15,000-seater Westminster arena inevitably did their bit to help the British players, but the Brazilians nevertheless wrapped up a 21-17 21-12 win that sees them through to the knockout stage.
Garcia-Thompson remained upbeat, insisting they had been beaten by "the best team in the world".
In the formidable form of 37-year-old Ricardo, their opponents boast one of the legends of the game, his tally of three Olympic medals - including a gold from Athens 2004 - standing as a record in the sport.
Best
"We lost to the best team in the world," said Garcia-Thompson." Ricardo could be the best player of the tournament.
"There were some good moments absolutely but we needed a couple more.
"They're a very good team and we had to play very well to beat them.
"When we did play well we scored points, but we needed to do it a few more times.
"We were keeping at their level in the first set, then they brought some good digs and some aces early in the second set and we just couldn't keep the level."