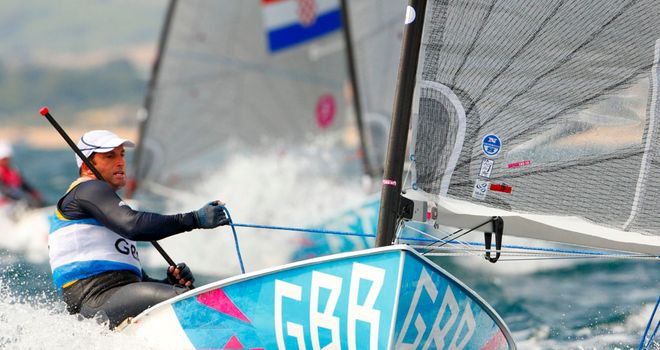 Ben Ainslie: Struggled on Monday
Three-time gold medallist Ben Ainslie slipped to the bronze medal position overall after two tough Finn races on Monday.
The 35-year-old Brit has been sluggish out of the blocks at previous Olympics but got off to a decent start on Sunday, collecting two second places.
Ainslie couldn't follow those steady performances up as he had to settle for sixth place in Monday's opening race at Weymouth Bay after a difficult start.
Denmark's Jonas Hogh-Christensen was the victor in both races on Sunday and impressed again as he finished second to New Zealand's Dan Slater.
Ainslie then endured a difficult fourth race and slipped to the bronze medal position overall behind Jonathan Lobert.
The Frenchman finished the race second to Sweden's Daniel Birgmark, putting him above the British favourite in the overall standings.
Ainslie struggled to a 12th-place finish on the Weymouth Bay West course and again failed to beat Hogh-Christensen, who recovered from a penalty turn to finish seventh and retain top spot overall.
"It was a tough day. It wasn't very good at all," Ainslie said.
"I was pretty frustrated with how I sailed so hopefully I will be better in the coming days.
"Everyone is having ups and downs. Jonas also had a bit of an issue in the second race [when he had to do a penalty turn].
"But as far as my own performance goes, I wasn't happy with that at all. I have to improve things for the rest of the week."
Joint top
More positively for the British sailing team, Iain Percy and Andrew Simpson move to joint top of the standings after Monday's races.
Percy and Simpson picked up third and second-place finishes to put them at the top of the fleet alongside Norway's Eivind Melleby and Petter Morland Pedersen.
"There is a long way to go but we did a bit better today on the results card," Simpson said, having picked up an 11th and second on Sunday.
"We managed to catch up a bit today, although we had some bad first beats.
"I think we sailed quite well, but we just didn't seem to have a good boat speed at first.
"We made a bit a change for the last beat of the last race and found a lot more speed, which is great news going forward because we were a bit frustrated.
"That was the good news and downwind we were very fast, which is always a good get-out-of-jail card in these kind of conditions where it is very much a downwind race."
Disappointing
The British athletes that began their Olympic campaigns on Monday will also be looking for an upturn in fortunes.
Reigning Laser gold medallist Paul Goodison is a prime example, having ended his first day 17th in the standings.
The Yorkshireman finished 10th in his first race and ended a lowly 23rd in the second.
Goodison's disappointment was compounded further by news that fierce rival Tom Slingsby of Australia ends the day top overall after a first and second.
Britain's Stevie Morrison and Ben Rhodes also saw their London 2012 campaign get off to a difficult start as they picked up two 12th-place finishes.
Asked how he assessed Monday's races, Morrison said: "Worse than average, but it is very early on in a very long regatta.
"We made some mistakes, quite obviously, and are quite frustrated with the second race, where we got ourselves in a pretty good position.
"The first race came down to one very quick decision.
"Strategy-wise we were good in both races, but just towards the end of that second one the wind started to pay a lot on the left-hand side and we were tending to favour the middle.
"Unfortunately, in the 49er when something changes it changes rather dramatically because you're going so fast.
"That was a bit frustrating but that is what happened and we just have to deal with that and carry on.
"We only need to go out tomorrow and have two really good races and then it's not an issue. We've always got the potential to go out and do that.
"There is no need to panic or change the game plan just yet as it's a long, long event."
Debut
Ali Young, making her Olympic debut, made a solid start on the first day of the Laser Radial class as she picked up a seventh and 10th, placing her ninth overall.
Meanwhile, in the women's match racing class, Lucy Macgregor's British team ended their second day of the round robin with defeat to Australia having earlier overcome Portugal.