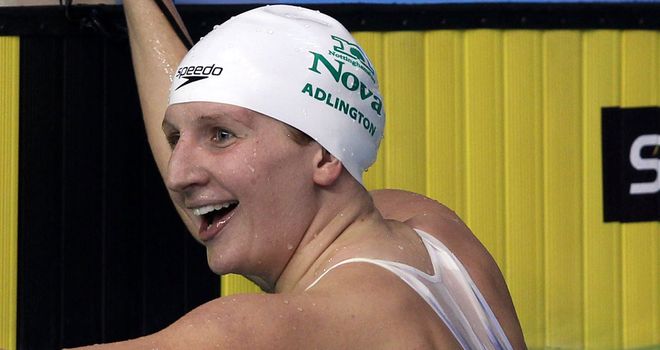 Rebecca Adlington: Benefited from adversity
Rebecca Adlington admits a lot has changed since the last Olympics - but she is better for experiences.
Adlington was just 19 when she shocked the world with two gold medals in Beijing, pushing her into the glare of the limelight.
"The low points I've experienced like the 800 at worlds and Europeans - I think I had to go through those things."
Rebecca Adlington Quotes of the week
The Sheffield swimmer did not take well to her new fame, and wanted to return to being a 'nobody'.
Distractions away from the pool inevitably had their downsides, a lack of endurance training resulting in fourth place in the 800m at the World Championships in Rome in 2009.
This was followed by a tearful seventh place at the European Championships a year later although she returned to win the 400m.
Experience
However, Adlington admits such adversity offered valuable, if painful, lessons that she took to heart and emerged triumphant in Shanghai last year where a silver in the 400m was followed by gold in the longer race after a shoot-out with former world champion Lotte Friis.
She said: "The low points I've experienced like the 800 at worlds and Europeans - I think I had to go through those things and I had to experience that and come out and better myself at the Commonwealths and the worlds last year.
"Shanghai was probably the highlight of the last four years. The 800 - I didn't expect that at all especially after how the start of the week went, feeling a bit sluggish.
"That has definitely been the highlight."
Now, at 23, Adlington is a young woman, in touch with herself and confident enough to know what suits her.
With a nod to her agent Rob Woodhouse, 1984 400m individual medley bronze medallist, Adlington said: "With this sort of thing (the press) you talk naturally.
"When I first started doing it everyone used to sit me down and say 'say this, say that' and I'm like I prefer to be natural.
"I am much more comfortable that way - when people give me information I forget it all and get really panicked and I am sat there thinking 'what was I meant to talk about'?
"Whereas it is nicer when you can be much more natural and talk about it and I think that comes with age as well, you just become more comfortable - and that is what I have in my swimming as well."