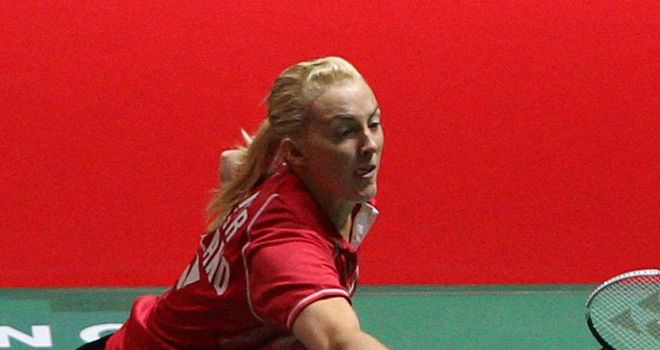 Imogen Bankier: GB medal hopeful alongside Chris Adcock in the mixed doubles
Scottish badminton star Imogen Bankier is hoping to take the family spotlight off her father in the build-up to the new football season.
Ian Bankier, the Celtic chairman, will spend the week before the Glasgow giants' first game of the 2012-13 Clydesdale Bank Premier League campaign watching his daughter's quest for Olympic gold in London.
If all goes well Imogen Bankier - a silver medallist with Chris Adcock at last year's World Championships - will be playing in the mixed doubles final the night before Celtic host Aberdeen in their August 4 opener.
"If we are fortunate enough to be in the final and I am sure he will make both that and Celtic's first game of the season."
Celtic chairman Ian Bankier's daughter Imogen Quotes of the week
She said: "I will be annoyed if I am in the final and he skips that!
"No, I am sure he would make it - if there is a will there is a way.
"If we are fortunate enough to be in the final and I am sure he will make both that and Celtic's first game of the season.
"I think it will be a massive week for him. He is busy with lots of Celtic stuff but he is looking forward to it.
"He can just relax - the spotlight's not on him - and enjoy watching me compete in London.
"I have got about four or five people coming down from Scotland - mum, dad and brother and others. I will have a nice little band of support.
"They'll have an amazing time I am sure."
Preparation
Bankier and Adcock are hoping to better their showing at the same Wembley Arena venue that hosted the 2011 World Championships when - then unheralded - they beat four seeded pairs en route to the final.
On that occasion they found world number ones Nan Zhang and Yunlei Zhao a step too far but they have since beaten that pair twice during an impressive Olympic qualification campaign.
The Anglo-Scottish duo saw off the challenge of veteran Nathan Robertson, who won silver at Athens in 2004, and Jenny Wallwork to secure their place and head into the competition ranked 10th in the world.
Glaswegian Bankier said: "We have had some really tough preparation in the last couple of months but now we have moved into the sharpening stuff.
"We are playing some more matches and we are ready to go now. We are 11 days out from the badminton competition and we are closing in fast. I can't wait to get out there.
"We know how well we performed last year at Wembley, we love that arena.
"For us it is a place that holds a lot of amazing memories and we are just hoping we can make us even more positive and use that to our advantage and the home crowd to our advantage. Hopefully we can get a medal."