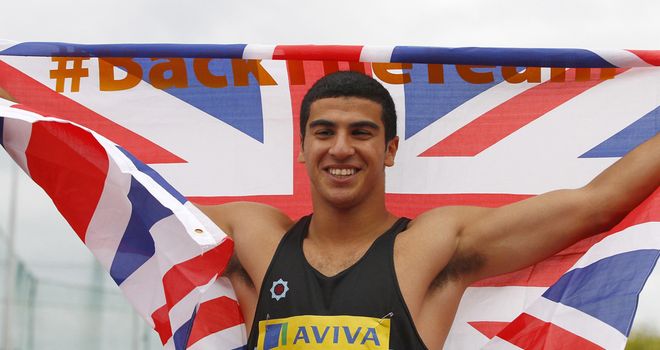 Adam Gemili: Confortably through to the next round of the 100m
British sprint star Adam Gemili made a solid start to his 100 metres campaign at the World Junior Championships in Barcelona by winning his heat with ease.
The 18-year-old was able to qualify with something to spare, his 10.37 seconds the equal fastest time along with that of Tyreek Hill of the United States.
Gemili is enjoying a breakthrough year, running a personal best of 10.08s in June and subsequently booking his place in Team GB for London 2012.
He said after his heat: "I tried to execute the start and I think I did just that. I saved myself today, it's really hot and I know I can go much, much faster.
"My technique has improved a lot lately and it is showing through my running. I am happy about where I am now."
GB team captain Chijindu Ujah was second in his heat, behind America's Aaron Ernest, the Brit clocking 10.48s despite a poor start.
James Gladman eased through in the 110m hurdles, opening up a dominant lead early on before easing up to finish in 13.69 secs.
"I am in great shape, I hit the first five flights well, which was my race plan and that allowed me to slow down a little and have a little jog to the line," Gladman said.
Medal
Emelia Gorecka provided Britain's first medal of the meet with third place in the 3,000m, pushing the pace along herself and then holding on for bronze.
Sophie McKinna qualified for the shot put final with her first throw, a mark of 15.80m breaking the qualifying standard by 10cm, but was beaten into sixth place in the final.
Sophie Papps justified her pre-race confidence by winning her 100m heat in 11.59s. Rachel Johncock was third in her heat in 11.75s.
Jessica Judd and Emily Dudgeon won their 800m heats in contrasting fashion, Judd setting the pace from the gun to win in 2 minutes 2.71 seconds while Dudgeon passed Ethiopia's Dureti Edao in the home straight to clock 2:05.73.
Pippa Woolven qualified for the 3,000m steeplechase final by finishing fifth in her heat and Nick Percy made it through in the the men's discus, but Charlie Grice missed out on the men's 1500m final.