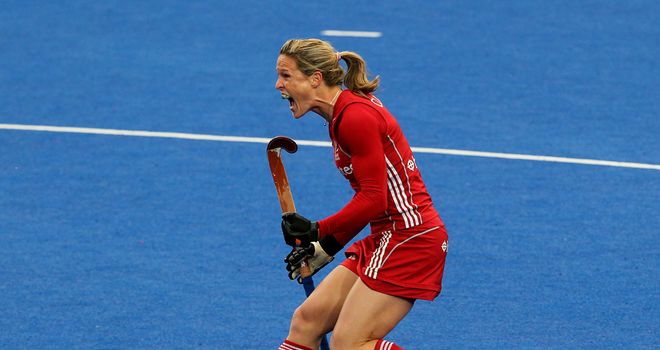 Crista Cullen: The defender insists GB cannot afford to get ahead of themselves
Great Britain may have their sights set on a medal at the London Olympics but defender Crista Cullen insists they cannot afford to get ahead of themselves.
While the least the women's side expect is a top-three finish, the Leicester star has expressed that they cannot focus on a podium place until they have done the work in the group.
"We have to start learning to turn the screw, particularly in the semi-finals, to make sure we don't miss out. "
Crista Cullen Quotes of the week
With their opening three matches against Japan, Korea and Belgium - all ranked below them - Danny Kerry's side have an ideal chance to get their campaign off to a good start before they meet Beijing silver medallists China and then world number ones and defending champions Holland in their final pool match.
Ambitions
Cullen said: "We have consistently medalled in the last three years, which is what we aspired to do, rising to fourth in the world but it is one game at a time.
"Our focus is with a medal mentality but the top 12 teams in the world consistently take points off each other.
"The ambitions we have as a group is to get ourselves on the podium and ideally in top spot come London.
"But we have to start learning to turn the screw, particularly in the semi-finals, to make sure we don't miss out."
Challenge
Cullen has a formidable partnership with captain Kate Walsh in defence as well as being a key player at set-pieces.
Success in her role as the main penalty corner striker will be a vital part of their Olympic campaign and the 26-year-old is relishing the challenge in front of her.
She added: "I am one of those very lucky people who is able to put the ball at goal so it is up to my team to win the penalty corners.
"I've worked hard on how to handle the pressure of being penalty corner specialist and I am very happy with how my ratios are going.
"It is about keeping consistent and keeping delivering to make sure that helps the team come the Games."
Adrenaline
At the Olympic test event back in May, Cullen had a scare when she twisted an ankle - while striker Alex Danson also injured a shoulder - but a minor issue like that was unlikely to stop someone who, in her spare time, likes racing across Africa in 4x4s for charity fundraisers.
It is this sort of activity which typifies the Lincolnshire-born defender, who spent her early life growing up in Kenya where her family still live.
She continued: "If you have an African upbringing that is the lifestyle out there but from a British point of view you are viewed as something of an adrenaline junkie.
"I am just very passionate about where I come from. I am very much a British person and every time I pull that shirt on I am very patriotic towards Britain - but I jump at any opportunity to get home.
"I am very lucky to have that differentiation between the sport I have in the UK and then at home I get a complete break as people don't know me as a hockey player out there.
"That potentially helps me get a balance between my sport and my life."