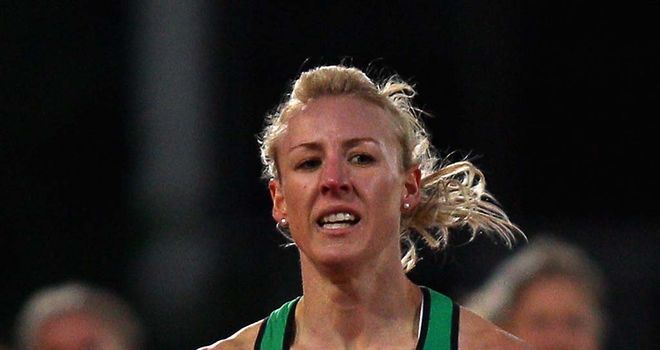 Jemma Simpson: Hoping her appeal will see her selected for the 800m
Jemma Simpson, Gareth Warburton and Richard Kilty will learn on Friday if appeals against their omission from Britain's Olympics squad have been successful.
The women's 800m selection has caused the most controversy - Jenny Meadows has announced she will not fight her omission, but Simpson has confirmed her appeal.
Simpson - along with Meadows, Marilyn Okoro and Emma Jackson - was omitted from the squad despite possessing the 'A' standard, unlike the selected Lynsey Sharp.
"I think there is grounds for all four girls that haven't been picked for the team to appeal," Simpson told BBC Cornwall. "I've sent my letter and I hope everyone else does too.
"Four athletes have been sacrificed for one. One showed current form and the selection process is so extensive you could have picked any one of the four, I don't know how they came to their decision - I think it's the wrong decision.
"Lynsey deserves a place. In a home Games when there's an option for three places you have to fill the spots. The British public like to see a full team out there - it is in the spirit of the Games."
Welsh 800m runner Warburton achieved the required 'A' standard time for London 2012 this season, although he failed to do so at last week's European Championships.
Kilty has also announced his intention to appeal having hoped to be selected in the 200m.
The appeals panel consists of UK Athletics (UKA) chairman Ed Warner, UKA president Lynn Davies and an independent barrister.
However, such appeals would seem likely to fail given that they can only be based on whether facts have been overlooked or the selection panel has not adhered to their published policy.