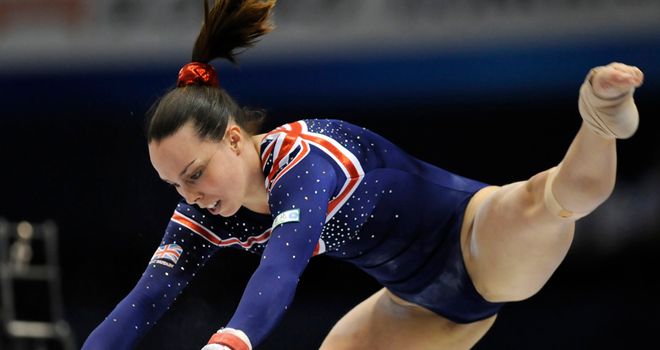 Beth Tweddle: Will lead the women's artistic gymnastics team in 2012
Louis Smith and Beth Tweddle will lead Great Britain's men's and women's artistic gymnastics teams at London 2012, however Daniel Keatings misses out.
Smith, who won bronze on the pommel horse at the Beijing Games in 2008, and three-time world champion Tweddle, each head up a five-strong team for the Games.
Keatings, the 2010 European pommel horse champion who competed with Smith as the only other male gymnast in Beijing four yeara ago, is not included.
Meanwhile, 15-year-old Rebecca Tunney becomes the youngest member of Team GB after being named in the women's team.
"This is my third Olympics and with it being on home soil it is definitely the most special. "
Beth Tweddle Quotes of the week
The men's team also comprises three-time British champion Daniel Purvis, 2010 European floor champion Kristian Thomas, Commonwealth Games double silver medallist Max Whitlock and 2012 Youth Olympic Games gold medallist Sam Oldham.
Ruslan Panteleymonov, the vault specialist who was part of the team which won their first European Gymnastics team gold medal in Montpellier this year, also misses out.
Experience
The women's team, led by the experienced Tweddle, is made up of Tunney, who was recently crowned British champion in her first year of senior competition, alongside 2012 European beam bronze medallist Hannah Whelan, three-time Commonwealth Games gold medallist Imogen Cairns and British beam champion Jennifer Pinches.
The London 2012 Games will be the last chance for 27-year-old Tweddle to add an Olympic medal to her impressive record before she retires from the sport.
The seven-time British champion will be competing in her third Olympic Games and admitted it has been a long road since Beijing back in 2008.
She said: "It is of course a huge honour to be selected to Team GB for the Olympic Games. This is my third Olympics and with it being on home soil it is definitely the most special.
"From Beijing to here has been a long journey. After 2008 I wasn't even sure I would carry on but the huge support for London and the enthusiasm of the public has really motivated me."
Crazy
Smith, who won Great Britain's first individual gymnastics medal in 100 years when he claimed bronze in Beijing, added: "It's been such an intense time in the lead up to the announcement with such a strong squad to pick from.
"Now we've got to do the business at the Games, which we're all capable of.
"It's just been a crazy four years since Beijing, for me and especially for gymnastics in this country.
"I'm not sure anyone ever expected such rapid development and it's such a positive thing for everyone involved in the sport."
Rhythmic
The GB rhythmic gymnastics team, who secured their place at the Games following an appeal, was also announced on Wednesday.
Captain Rachel Smith will lead a six-strong team of Louisa Pouli, Francesca Fox, Georgina Cassar, Jade Faulkner and Lynne Hutchison. Francesca Jones will also represent Team GB in the individual rhythmic event.
Kat Driscoll will fill the only spot available for Great Britain in trampoline.
The British champion earned a place in the women's competition at last year's World Championships in Birmingham, with the men missing out.
Men's artistic gymnastics team for London 2012 (age): Louis Smith (23), Daniel Purvis (21), Kristian Thomas (23), Max Whitlock (19), Sam Oldham (19)
Women's artistic gymnastics team for London 2012 (age): Beth Tweddle (27), Rebecca Tunney (15), Hannah Whelan (20), Imogen Cairns (23), Jennifer Pinches (18)
Rhythmic gymnastics team for London 2012 (age): Rachel Smith (captain, 19), Georgina Cassar (18), Jade Faulkner (18), Lynne Hutchison (17), Louisa Pouli (22), Francesca Fox (20)
Individual rhythmic gymnast for 2012: Francesca Jones (21)
Trampoline (age): Katherine Driscoll (26)