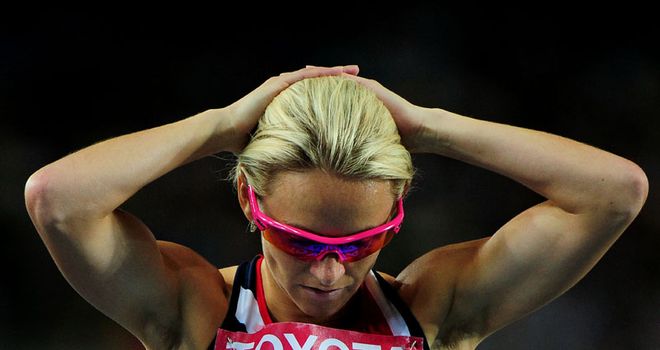 Jenny Meadows: Admits that she would appeal if she is left out of GB squad
Jenny Meadows admitted that she would appeal if she is left out of Britain's Olympic team when it is announced next Tuesday - despite not having raced once this year.
Meadows, who won bronze in 2009 in the 800 metres at the World Championships in Berlin, had hoped to prove her fitness and even win a medal at the European Championships in Helsinki. However she withdrew before Thursday night's semi-finals after suffering a reaction to her Achilles injury on the flight to Finland.
The 31-year-old remains hopeful that her previous championship record will be enough to gain selection, with all three places still potentially up for grabs depending on results in Helsinki.
"I would appeal; you've got to do everything. "
Jenny Meadows Quotes of the week
However, if the UK Athletics selection panel decide past form is outweighed by their commitment not to select any athlete "who it has good reason to think will be uncompetitive at the Games due to...injury, illness or lack of recent form," then Meadows would appeal.
Miracle
Meadows said: "I would appeal; you've got to do everything. It's the Olympic Games, it's not a hobby, it's not a profession, it's literally my life.
"I've been an unhappy person for six months. Every day I wake up and I don't want to be in this situation. You pray for a miracle but the only thing you can control is how hard you work that day.
"I've put myself through the unbelievable stress and strenuous training for just one reason, and that's to compete in Stratford.
"I would be absolutely devastated (to miss out). When I pulled out yesterday Charles (van Commenee) was surprised there were no tears, but I said I've got none left.
"I guess I would definitely find some, but knowing my gutsy personality and determination I would be out to prove myself the best British athlete by the end of the season and say 'look what I could have done."'
The good news for Meadows is that Marilyn Okoro and Emma Jackson, who could have sealed an Olympic place by finishing in the top two at the weekend's trials, finished fifth and seventh.
Lynsey Sharp and Jemma Simpson, who were first and second in Birmingham respectively, could now claim those two places by recording the 'A' standard of one minute 59.90 seconds in Helsinki. Yet whatever happens there will be at least one spot up for grabs.
Flying colours
Meadows would be willing to undergo tests to prove her fitness and actually insists she is "incredibly fit" thanks to a punishing training regime. This has included time in a hyperbaric chamber and long sessions on a bike in her garage, but she is paying the price for pushing too hard and running an 800m time trial in two minutes last week.
She added: "The protocol was never to make the trials or get a race in before selection, they told me that wasn't possible. But I passed every test with flying colours so I pushed myself and took risks because I had no choice and I thought I had played an absolute blinder to be honest.
"Ten days ago I did an 800m time trial which I wish someone had filmed, but there were just school kids at a sports day watching me. I ran 2:00.8 in just the fourth time I put spikes on and it was a really good session. I thought I would have more later that week and thought I could win a medal here.
"I would run on one leg if asked and if I didn't have the evidence of the last few weeks maybe I would have, but I'm not prepared to be an also-ran, I've been that sort of athlete in the past."