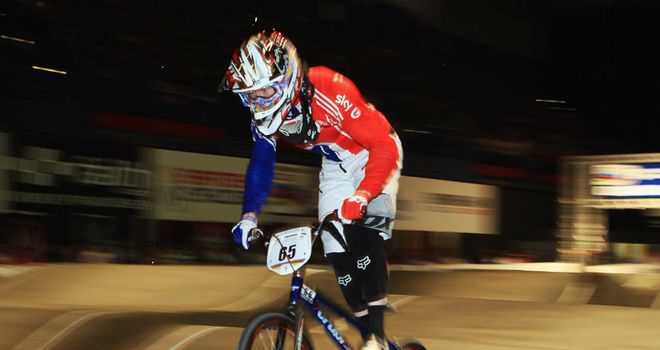 Liam Phillips: Confident he has enough time to prepare for Games
BMX ace Liam Phillips is confident of Olympic success after a crash threatened to wreck his 2012 dream.
The 23-year-old from Somerset won a time-trial silver medal at May's BMX World Championships in Birmingham. However, a day later in the super cross Olympic event he tumbled over his handlebars and suffered a fractured collarbone.
The injury cast doubt on his participation in the Olympic BMX event, which starts on August 8, but Phillips was confirmed in the Great Britain team when the cycling squad was announced last week.
After the World Championships, Phillips had just one pre-scheduled week off and has been working on the stationary bike to retain his fitness - and hopefully his form.
Healing
Phillips, for whom London will be his second Games, said: "My legs aren't going anywhere.
"If anything I'm going to go into competition in even better form than I was for the Worlds.
"It's just a case of getting the shoulder healed properly and getting back on the bike."
Liam Phillips Quotes of the week
"It's just a case of getting the shoulder healed properly and getting back on the bike.
"If I can get myself back in the shape that I was in at the World Championships that's all that I can ask and I'll be there or thereabouts.
"That's the biggest task, finding that form. I don't feel I need to go over and above that form in Birmingham.
"Getting back to that level is what's expected and is going to put me right up there with the group that are going to be challenging for medals.
"I'm confident that I have enough time."
One of the captivating elements of BMX is the prospect of crashes. Spectators relish it and, while riders do not, Phillips understands the attraction.
He added: "It's part of BMX. I wouldn't change it. It's what keeps everyone on the edge of their seat."