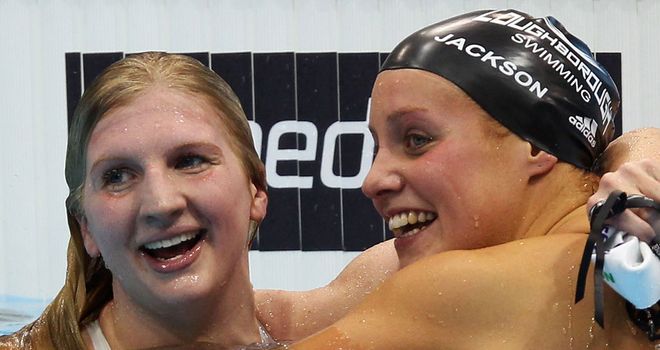 Rebecca Adlington (L) and Jo Jackson celebrate their 1-2 finish
Rebecca Adlington made a statement of intent as she booked a spot on the Great Britain team with a dominant 400 metres freestyle victory in the Olympic trials at the Aquatics Centre.
The double Olympic champion led from start to finish to touch in four minutes 02.35 seconds, faster than the time that saw her claim the Olympic title as well as silver at last year's World Championships.
Olympic bronze medallist Jo Jackson held off fast-finishing Eleanor Faulkner for second as she left behind the illness and asthma that had so affected her since autumn 2009. Former relay world medallist Jaz Carlin was fourth.
"There is so much relief, happiness, excitement," said Adlington. "It's an amazing feeling.
"I just started crying because it is four years of training, it's not just since Shanghai (2011 World Championships).
"I know the younger guys have got the next Olympics but London has always been my target and to know I am now going is the best thing in the world."
Of swimming alongside friend Jackson, Adlington said: "Me and Jo have so much experience together - I missed her last year when she wasn't there. We are so used to each other and we are such close friends."
Jackson has overcome asthma and illness a year ago and now looks back to her best.
"That last 50m I put everything into and it kind of makes the lows a little bit easier, when things haven't been going so well it puts it all into perspective," she said. "I've just got a smile on my face which hasn't happened for a while."
The men were not to be outdone with Daniel Sliwinski and 17-year-old world junior champion Craig Benson qualifying in the 100m breaststroke to bring to 11 the swimmers who have so far booked a London berth.