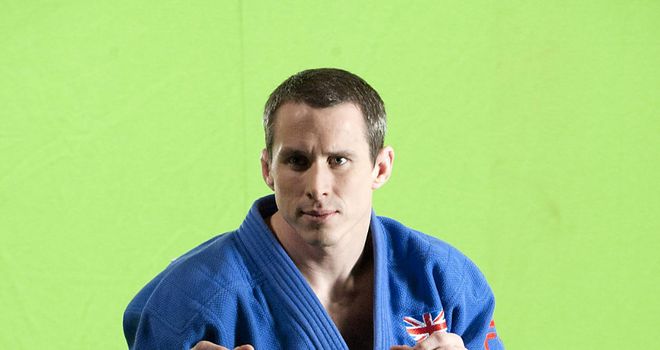 Euan Burton: Putting in the miles
Great Britain judo star Euan Burton is putting in the miles to make sure his preparation for the Olympic Games is perfect.
The 32-year-old from Edinburgh is is twice a World Championships bronze medallist and a regular contender at major events, making him Britain's best hope of a judo medal.
He is planning long-haul trips to Japan, Korea and Russia in the coming weeks to fine-tune his preparations.
"If you're going to stand at the top of the podium you've got to beat everybody that's in front of you," he said.
Pressure
"People know that I can and I know that I can, but I don't think people are expecting it, because I'm not world and Olympic champion - I've never been European champion.
"The pressure that's on me is on me from myself and the people around about me who know how much hard work I've put in and how much it means to me.
"To be a champion and to try to win, you've got to deal with those pressures."
Although his Olympic place is yet to be assured, Burton is set to line up as Britain's representative in the 81 kilograms half-middleweight division, with 31 fighters from 31 different nations in opposition.
The top eight fighters will be seeded and granted a more favourable draw, but Burton, who is currently ranked number 12 in his class, is unconcerned as he faces five five-minute fights in his bid for Olympic gold.
"The category's going to be jammed full of tough guys to fight," he added. "Whether you get them in the first fight or the final, it doesn't really matter - you've got to beat them.
"When I've had my best results, it's often been off the toughest draws. It's one of the things I do best - I rise to the challenge at the biggest events.
"I'd like to be top eight to get a good ranking for the Games, but if I'm slightly outside of that and it means I'm going to get one of the top-eight guys first fight, I'm happy with that as well and I'm fully confident that I can beat all of those guys."
Air miles
Burton will clock up the air miles in the coming weeks and on Friday is set to travel to Japan for a three-week training camp before a week in Korea.
The trip, which incorporates sparring with leading fighters from Japan and Korea - and therefore the best in the world - will also be crucial in the build-up to the European Championships, which are set to take place in Chelyabinsk, Russia in April.
"The European Championships are in Siberia, so it's a long old journey and six hours' time difference," Burton added.
"As far as a European Championships goes it's about as far as you can go. Even if it was in Moscow it would be a lot closer."
For Burton, he is hoping it will be just a point on the journey.
Click here to find out more about about Euan Burton