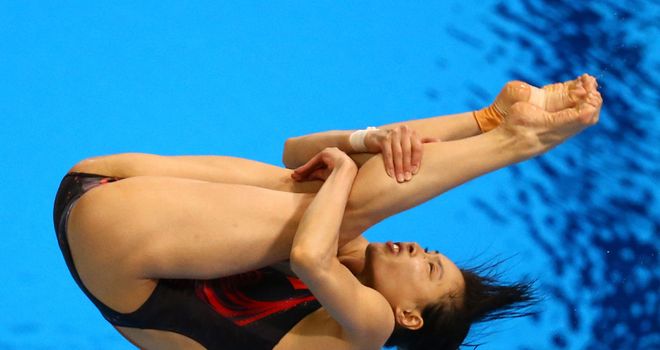 Wu Minxia: Now has six Olympic medals
China's Wu Minxia won the women's 3m springboard to claim a record-equalling sixth Olympic diving medal.
The world champion crushed her rivals, and claimed the first individual perfect 10 mark of the 2012 Games, in the Aquatics Centre.
The 26-year-old began the Games by winning an unprecedented hat-trick of synchro springboard titles and Sunday night saw Wu join her former partner Guo Jingjing on six diving medals.
Wu's score of 414.00 left her 34.8 points clear of her current synchro partner, He Zi.
As a result, China remain on course for a clean sweep of the eight diving medals on offer at London 2012. They have won all five events so far, but Briton Tom Daley will be out to stop them completing the full set later this week in the men's 10m platform.
Laura Sanchez claimed the bronze for Mexico after she edged out veteran Tania Cagnotto by just 0.2 points.
That was agonising for Cagnotto - the five-time World Championship medallist remains without an Olympic medal despite having now competed in four Games.