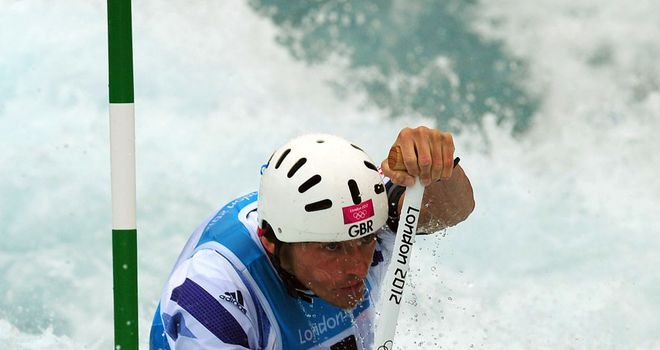 David Florence: Crashed out of canoe slalom C1 at the semi-finals
Britain's David Florence saw his canoe slalom C1 medal hopes come to an end on Tuesday after finishing outside the cut-off for the final.
The 29-year-old from Aberdeen initially took sixth spot after going out eighth, but dropped down to tenth place and out of the competition.
The world number one and silver medallist from Beijing had been in line for a medal but his time of 106.16 seconds, which included two seconds, was not good enough.
Disappointed
Florence, nicknamed D-Flo, received huge cheers from the 12,000 capacity grandstand at Lee Valley white water centre as he powered his way down the 250 metre course.
He has another chance of a medal when he competes in the semi-final of the C2 - the two-man boat - on Thursday with team-mate Richard Hounslow.
Florence said: "I am very disappointed obviously that it didn't go well enough. I have wanted to perform at this event for the last four years and not to do so is very frustrating.
"But it's part of the sport of canoe slalom - some days it doesn't go your way. As far as I am aware, I didn't go fast enough anywhere on the whole course. There wasn't one mistake that cost me time, it was the whole way.
"All I was trying to do was put in a great run the whole way and that is all I was really concentrating on.
"It's easy to say it was the pressure of the home crowd (that got to me) but this is a very up and down sport and today I wasn't good enough."
Florence insists he can still turn it around for the C2 final on Thursday, adding: "Sometimes I have had as little as 20 minutes to turn it around and this time I have two days so that is not really an issue. I am not going to let any negativity get in the way of what is a great opportunity in a couple of days.
"I don't think I let myself down because as far as I am concerned I did everything I could. The crowd has been fantastic and the support amazing."
Gold
France's Tony Estanguet won Olympic gold in a time of 97.06 seconds.
It was the 44-year-old's third gold medal in the event after he triumphed in Sydney and Athens.
Germany's Sideris Tasiadis was second and the defending Olympic champion, Slovakia's Michal Martikan, took third place at the Lee Valley white water course.
Estanguet wrapped the French flag around his shoulders as Tasiadis crossed the finish line, narrowly missing out on top spot.