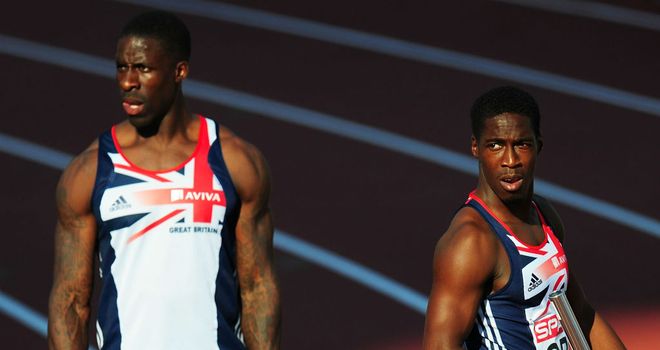 Look back in anger: Christian Malcolm (R) and Dwain Chambers
Britain's hopes of a medal in the men's 4x100m relay at the European Championships lasted barely 10 seconds, with Christian Malcolm on the first leg and Dwain Chambers on the second failing to exchange the baton.
It was another relay failure for Team GB in Helsinki, coming the day after the women's team were disqualified and failed to secure a place at their home Olympics.
Malcolm lost momentum around the bend and was unable to get the baton to Chambers, who was anxious to get a good start with France's individual 100m champion Christophe Lemaitre on his outside.
"I will take responsibility," Malcolm said. "I lost momentum and it's my job to get the baton into Dwain and I didn't get it done. It was an opportunity for us all and we have messed up.
"We thought we were going to win and we were all up for it today. It's nothing to do with a lack of practice, it's just one of those things. I know we like to play the blame game and I will take responsibility."
It is far from the first time Britain have suffered relay woe in major championships, with dropped batons at the Olympics in Atlanta (1996) and Sydney (2000), as well as the World Championships in Edmonton (2001), along with a disqualification at the last Olympics in Beijing and the World Championships in Daegu.
They also went out in the first round at the last European Championships in Barcelona when a poor changeover between Marlon Devonish and Mark Lewis-Francis saw them finish fifth in their heat.