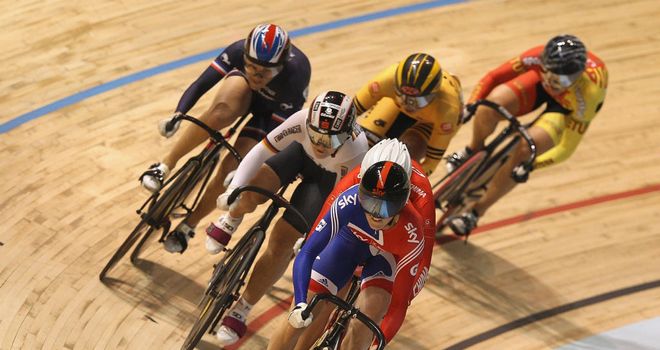 Victoria Pendleton: Fell back in the keirin after tough World Championships campaign
Victoria Pendleton declared herself satisfied with her final Track Cycling World Championships despite missing out in the keirin on Saturday.
The 31-year-old seemed to be feeling the effects of her tiring sprint campaign as she could only manage 12th in the final event of her 11th World Championships campaign.
That disappointing result came one day after she claimed her sixth world sprint title, while she also finished fourth in the team sprint alongside Jess Varnish.
Pendleton's win over perennial rival Anna Meares in the semi-final of the sprint came after she picked herself up from a heavy crash in the first match of the best-of-three to come back and win the next two.
"I didn't think it was really possible coming into competition to win the sprint - I thought I had more chance in the team sprint and the keirin to be perfectly honest - so it's been a pleasant surprise," Pendleton said.
"She (Meares) was three tenths (of a second) faster than me in qualifying.
"Usually that would be an easy ride; you'd ride over someone without any concern or really requiring much tactics. It's quite a big gap in sprinting.
Stepping stone
"For it to be close and for me to come through that I'm really happy with that. The Olympics is the big one - that's the one we're aiming for. I think it's a pretty good stepping stone."
The performance in a punishing sprint competition featuring the world's best riders over two full days proved Pendleton's determination to retain the Olympic title she won in Beijing.
She added: "It's really high intensity. It is the hardest event to win. I cannot tell you how hard it is to hang around the track, waiting for two days, to do a sprint match where you blink and it goes wrong.
"I'm really pleased. My goal was to get on the podium - to get on the top of the podium is even better. If someone had said you're going to flunk out of two and win one I'd have taken it coming into it."
As well as her sprint titles Pendleton has won the team sprint twice and the keirin once, although she made a low-key exit from the latter competition this time around.
"It hasn't been a bad run for just over a decade of doing this," she said.
"This morning I thought, 'I don't know if I can get on my bike today'. I've got quite bad whiplash. I had some physio, was crunched a little bit, and that kind of helped.
"I'm just really glad it's over, because I'm really sore."