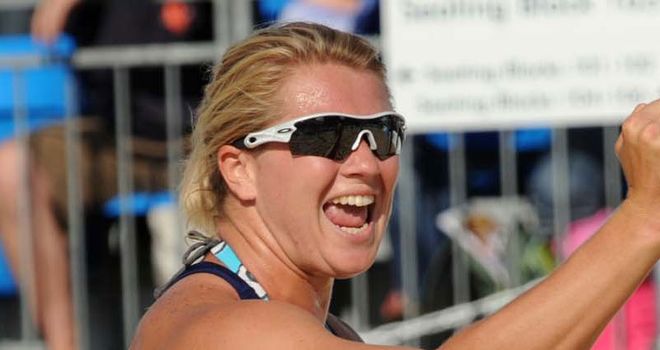 Lucy Boulton
With the profile of beach volleyball slowly beginning to rise in Britain, Lucy Boulton is determined to showcase the best of her sport to the world this summer.
The 26-year-old from Essex has only been involved with the sport for a few years, having begun playing volleyball at school. She then moved into beach volleyball in 2006, as she felt that there would be better career prospects by choosing that route.
With her England debut aged 17, Boulton went on to have five full seasons playing on the FIVB World Tour alongside playing partner Denise Johns.
She has since continued to travel, her powerful serve with her at all times, as the pair embark on training camps and tournaments across the world.
Due to the nature of the sport, the Exeter University graduate is out of the UK for the majority of the year in warm weather locations. However, when she is back on home ground, she trains at the Centre of Excellence for British Beach Volleyball at the University of Bath.
Crowned British Beach Volleyball champions in 2007, 08 and 09, the pair are well on their way to putting in an impressive performance at Horse Guards Parade this summer.
This sporting improvement was highlighted last year, at the Olympic Test Event. The pair finished fourth and beat the World's No.1 ranked pair en route; an achievement that was almost unthinkable just a few years ago.
With fellow Brits and rivals, Shauna Mullin and Zara Dampney, also fighting for Olympic qualification, it will be a manic build-up to the Games in July.
A hectic and intense schedule is now well underway for Boulton, including events and training in New Zealand, Los Angeles, Rio, China and Russia to name a few; 2012 is already proving to be a mental and physical challenge.
Despite this, the 2012 hopeful is ready for what the year has to offer and is relishing the prospect of competing in front of a local, home crowd.