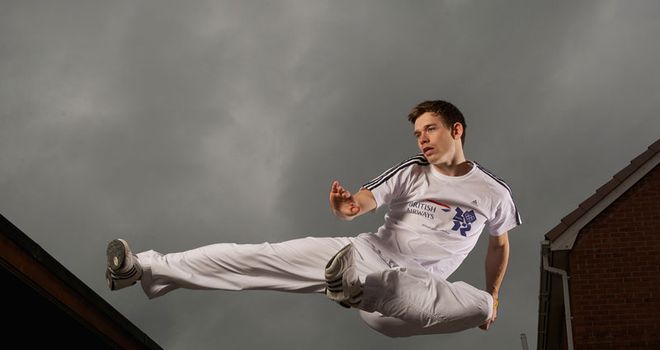 Aaron Cook: Hopeful of London spot
Aaron Cook is confident he has done enough to secure a place at London 2012 after his return to form at the Dutch Open last weekend.
Reigning under-80kg European champion Cook, who last year left the Great Britain Taekwondo World Class Performance Programme to pursue his own training regime, won the event in Eindhoven, beating fellow British fighter Lutalo Muhammad along the way.
A fortnight earlier he had lost a semi-final to Muhammad at the German Open, where another Briton, Damon Sansum, went on to take gold.
Prior to that, Cook had also triumphed at the US Open in February and the 21-year-old feels that having bounced back so quickly from his disappointment in Germany, he has put himself firmly in the frame for Olympic selection ahead of his rivals, a final decision on which will be made after May's European Championships in Manchester.
"I feel like I have done enough," said Cook. "I have won 10 major Opens and Damon has just won his first one. I managed to beat Lutalo just at the weekend, so I feel I have definitely put my stamp on the Olympic selection and I hope they make the right decision.
Tough schedule
"It has been a tough schedule in terms of competitions. I went to the US Open and won that and then a week later went to the German.
"I was a little bit tired and jet-lagged and Lutalo managed to beat me by a few points, but I was a bit unlucky in the fight and I felt like it could have gone either way.
"Two weeks later it was the Dutch Open and I fought him again in the semi-finals, beat him and felt really comfortable.
"I managed to put it right from Germany and went on to win the competition, so I feel as if I have definitely turned it around. I think I have proven so many times that I am the right person to go."
The Dorset-born athlete, also winner of the British Open and Olympic test event amongst other competitions since he quit the GB training set-up last June, believes his decision is showing itself to be a wise one.
Right move
"I think it was definitely the right move and that I have shown that in all my performances," said Cook, who competed at the 2008 Beijing Olympic Games but missed out on a medal.
"Since I left I have won seven gold medals and two bronzes, so it has been going fantastically.
"The European Championships are coming up in May and hopefully I will be able to retain my title and go into the Olympics with a huge amount of confidence.
"I have beaten a lot of the other athletes who are going to be there, so I hopefully just have to be selected and then I will do it all on the day in August and have a gold medal around my neck."
Someone whose participation in London has been thrown into doubt is world champion and Beijing bronze medallist Sarah Stevenson.
The 28-year-old from Doncaster - who suffered great personal tragedy with the loss of both her parents last year - has undergone surgery to repair cruciate ligament damage sustained at a recent training camp in Mexico.
Referring to her injury, Cook said: "It was a big shock and extremely gutting - I can imagine how Sarah feels.
"It is disappointing, but hopefully she will be back. She is a strong athlete and will have a major opportunity if she is ready to go to the Olympics. I wish her all the best to try to get back and I'm sure she will."