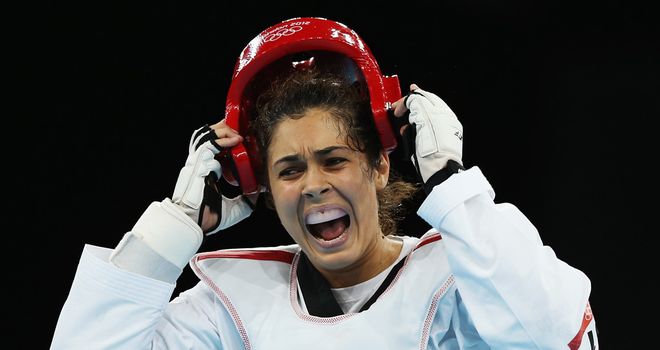 Mandic: Celebrates her triumph
Milica Mandic overcame France's Anne-Caroline Graffe 9-7 in the over-67kgs final to claim Serbia's first taekwondo Olympic gold.
The 21-year-old was making her debut at the Games but showed no big-stage nerves as she beat 2008 champion Maria del Rosario Espinoza and then European gold medallist Anastasia Baryshnikova en route to the final.
Mandic continued her momentum against Graffe, landing a head kick in the second round to lead 5-4 going into the final two minutes.
Graffe, 26, is the current world and European champion at over-73kg, but initially France had selected under-73kg world gold medallist Gwladys Epangue, who was injured in the run-up to London 2012.
However, the 26-year-old demonstrated her pedigree to level up the contest at 7-7 as the clock ticked into the last 50 seconds.
Mandic, though, was not to be denied as she landed a couple more body shots to close out a memorable victory.
"I just can't believe it and I'm so proud I did it for my country," she said.
"This is something that I wanted so much and I've worked really hard for it.
"It is amazing, the highlight of my life."
For Tahiti-born Graffe, the silver medal was also an historic moment.
She said: "This means a lot to me because I am the first Polynesian to represent France at the Olympics and it's a good way to finish off my Games.
"I am proud of my silver medal, although I was expecting to get gold."
The 2008 Olympic champion Espinoza came through the repechage to beat Cuban Glenhis Hernandez and claim bronze.
Third seed Russian Anastasia Baryshnikova - who had beaten Mandic to under-73kgs gold at the 2012 European Championships in Manchester - claimed the other bronze medal after overcoming repechage winner Lee In Jong 7-6 on a sudden death score.
"I came here for the gold, but since this did not happen, I was determined to fight for the bronze," she said.
"I am proud to have won this medal for Russia, even if it is bronze and not the gold."
Proud policeman
Rome policeman Carlo Molfetta landed gold on judges' decision after a classic final of the men's +80kgs against Anthony Obame, whose silver was a first Olympic medal for Gabon.
Obame had scored an early head shot and looked to defend a 6-3 lead going into the final round.
However, despite landing another head shot, which was upheld on appeal from the Italian corner, Obame could not hold out.
With just 15 seconds left Molfetta, European champion in 2010, somehow found a head score of his own to send the contest into sudden death.
Neither man could make the breakthrough during the extra period, so it went to the judges' superiority decision - which was awarded to the Italian.
Molfetta felt his triumph was down to an indomitable spirit.
He said: "I just know that everything is possible.
"The first person I would like to thank is myself. I have put a lot of work into this medal, lots of injuries and many sacrifices. That's why I have to dedicate this gold medal to myself in the first place, then to all the people who supported me on the way to gold."
Obame hopes he can inspire athletes in Gabon to more Olympic success.
"It is a good start for us. We have to try to get more medals in the future," he said.
Fifth seed Obame had earlier edged out veteran Turk Bahri Tanrikulu, the three-time former world champion, 3-2 after landing a body kick on the buzzer in the final round of the semi-final to secure his nation's first medal since they started at the Games in 1972.
Molfetta, meanwhile, got past giant Mali wildcard Daba Modibo Keita 5-4 in an epic contest, which was settled by video review on the buzzer when Keita's hopes of a match-winning head kick was correctly ruled out for holding.
The 6ft 8ins Keita - twice world champion but a wildcard entry at London 2012 having been hampered by a knee injury - was later unable to try to become Mali's first ever Olympic medallist when he could not take to the mat for the bronze match.
Robelis Despaigne of Cuba was awarded the medal.
"He told me in the calling room that he was not going to fight because he was injured, so I knew right there that I was getting the bronze medal," said Despaigne.
"I feel good because of the medal, but I don't like winning without fighting."
Liu Xiaobo of China claimed the other bronze when he edged a tight contest against Tanrikulu 3-2.
The Turk, who won a silver medal at welterweight in Athens, had pulled off a shock in the quarter-finals when he beat defending Olympic champion Cha Dongmin of South Korea 4-1.