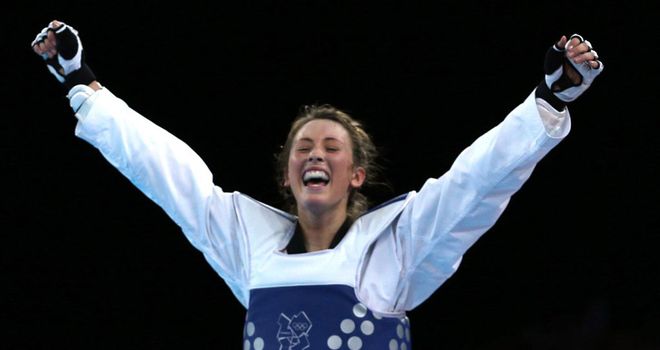 Jade Jones: Claimed revenge over Hou Yuzhuo in Olympic final
Taekwondo gold medallist Jade Jones has revealed a thirst for revenge was a major motivation behind her Olympic victory.
The 19-year-old Briton, who won silver at last year's world championships, went one better at London 2012 as she defeated China's Hou Yuzhuo in the 57kg final at the ExCeL on Thursday night.
Jones suffered an agonising 6-5 defeat to the same fighter when she was going for the world title and was determined not to let the opportunity pass her by again.
"She beat me in the world championships and it made me distraught because it was sudden death - so it was next point wins," Jones told Sky Sports.
"When she won I was so devastated, I remember walking into the fight yesterday (Thursday) and thinking, 'she took my world title but she's not going to take this in front of the home (crowd)'."
She added of the support: "It was amazing. I tried to imagine it before I went in there because I thought I knew what it would be like.
The Headhunter becomes champion
"But as soon as I came out as I was so overwhelmed. The support was crazy."
Comeback
Jones was forced to come from behind to beat world No.1 Tseng Li-Cheng of Chinese Taipei in the semi-final, but never gave up on her dream.
"Obviously you start to go down but you've just got to stay focused, I knew I could bring it back," she said.
"She was just cancelling out my game really and spoiling me so it was really awkward and I was finding it hard to score but as soon as I started going for it, it was OK."
Jones also paid a glowing tribute to her coach Paul Green, who she rushed straight over to embrace after her gold medal was confirmed.
"He's a legend, words can't describe how amazing he is. He deserves half of this medal really," the Welshwoman said of Green.
"The getting up early and the dedication, he's just been pushing me and pushing me and he's coped with all sorts.
"I cry in the training, I moan, he's coped with so much and he's still pushed and pushed. So we're just so happy that all his hard work and all my hard work has paid off."