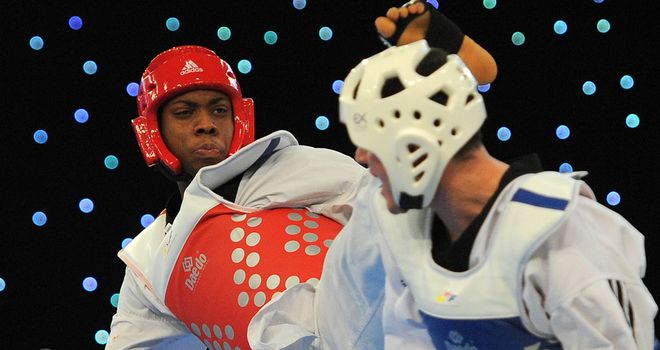 Lutalo Muhammad: Inspired by his father as he prepares for Olympic bid
British Taekwondo fighter Lutalo Muhammad will use the determined spirit encouraged by his father as inspiration to become Olympic champion at ExCeL next week.
The 21-year-old was a controversial selection for the under-80kg place on a four-strong squad for London 2012, finally ratified ahead of Aaron Cook, who was ranked world number one for the weight division.
That saga, though, is now "ancient history" for Muhammad, who claimed the under-87kg European Championship title in Manchester earlier this summer and is now firmly focused on showing just why he is the man to deliver on the biggest stage of all.
Muhammad grew up in Walthamstow, east London, just a few miles from the Olympic Park and was introduced to the Korean martial art at an early age by his father Wayne, setting him on a path towards potentially cementing a place in British sporting folklore.
Hard work
Muhammad, whose father Wayne runs a taekwondo club in Hackney, said: "My dad has been teaching me since I was three, so I probably did not have much choice. I am very grateful for all that; he put a lot of hard work into me.
"He always told me to persevere, keep going and have an indomitable spirit.
"There are always going to be up and downs in any athlete's career, but having him there as a strong role model helped me get through.
"If you ask any athlete, they will tell you they have had to make sacrifices. For me, this is what it is all about, it is a home Olympics and all those sacrifices that others like my parents have made for me will be for these Games."
Muhammad added: "I remember when it was announced that London would host the Olympics, I was very excited and my dad was like, 'You could do that'.
"Now I am here, it is a wonderful opportunity I am determined to take."
Hate mail
The controversy over the non-selection of Cook, who left the British Taekwondo performance academy after a disappointing 2011 World Championships, drew criticism from several athletes, including Sir Steve Redgrave, and Muhammed even received hate mail.
However, the British Olympic Association and the World Taekwondo Federation have both since backed GB Taekwondo's due process.
Muhammad is hoping everyone can now look ahead, as team-mates Sarah Stevenson, Jade Jones and Martin Stamper aim to return to the team's Manchester headquarters from London 2012 with a bumper medal haul.
Support
He said: "All that is ancient history now. I am only focused on my training, because that is how the results will come.
"In sport, the more exposure you get, there will be some people who don't like you for whatever reason, and may not appreciate what you have done.
"I think, though, that was the minority. The majority of people have been very positive and I am very thankful for all the support.
"My dad has been teaching me since I was three, so I probably did not have much choice. "
Lutalo Muhammad Quotes of the week
"For me, it is a home Games in London, where I was born; I am ready to grasp this opportunity with both hands."
Muhammad insists he will not feel the glare of the anticipated media spotlight next week.
"The only extra pressures on me will be what I put on myself," he said. "I feel I have the potential to be on top of the podium.
"The training camp has been going very well, I feel like I am moving forwards."
The Londoner added: "I feel in the shape of my life.
"People will have to wait and see, but they will see something exciting, something special."
Upbeat
Gary Hall, the Great Britain performance director, has kept his squad away from the "mayhem" of the athletes' village for as long as possible.
They trained in the familiar surroundings of Manchester ahead of disembarking to the Loughborough holding camp, and then will travel on to London just ahead of the start of competition on Wednesday.
Muhammad said: "The mood in the camp is fantastic; it has always been upbeat and very positive.
"I draw a lot of confidence from the other members of the team and it is a really good atmosphere."