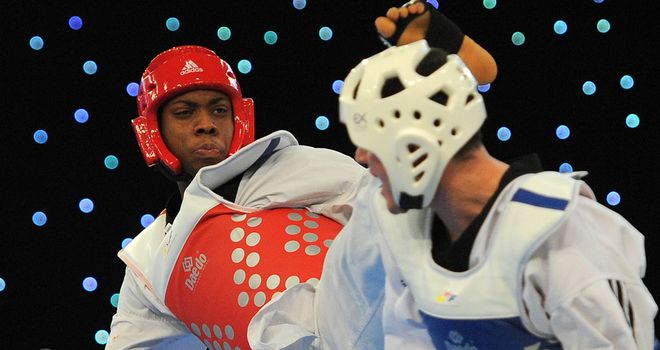 Lutalo Muhammad: Preparing for the 2012 Games
Gary Hall, Great Britain's Taekwondo performance director, has every confidence his elite fighters can "go all the way" at London 2012.
It has been a difficult couple of months for the Manchester Academy following the selection row over the decision not to pick world number one Aaron Cook in the under-80kgs place on a four-strong team for the Olympics.
"We want to give our best ever performance in London. "
Gary Hall Quotes of the week
However, the decision to instead select Lutalo Muhammad - European champion, but at a higher weight division - was eventually ratified by the British Olympic Association.
It has since been backed by the World Taekwondo Federation, while Cook decided against pursuing a legal challenge. The uncertain atmosphere has been lifted as the countdown to the Games sharpens everyone's focus.
Potential
Hall, who accompanied Muhammad, Wales teenager Jade Jones, fit-again world champion and Olympic bronze medalist from four years ago Sarah Stevenson and Liverpudlian Martin Stamper for the Team GB kitting out experience at Loughborough University on Thursday, said: "These guys have all got the potential to go all the way.
"We want to give our best ever performance in London and the coaching staff, the performance team behind the athletes have done an absolutely fantastic job."
Even though final preparations ahead of the departure down to the Olympic Park at the start of August are progressing to plan, Hall accepts the selection saga could easily have resulted in a negative impact on the fighters.
Fear
Hall added: "The unfortunate situation which came out was not ideal in terms of preparation and distraction is always a fear.
"Yes, we all had our worries, particularly selectors who had to go through a very tough time, the same guys who have been coaching this team.
"Quite a lot of pressure was applied on that, some of it undue, but at the end of the day, you have to bury that and look at what we want to achieve. Everybody stayed true to the mission.
"The WTF did a thorough investigation and found what we already knew, that our process was followed. For us, the right man was selected for this job and I am sure Lutalo will do the best he can."
Stevenson, 29, overcame a serious knee injury to be fit for the Games and will be looking to add an Olympic title to her second world crown.
Hall said: "While we can never guarantee medals, Sarah is in great shape and is ready to go for it in London."