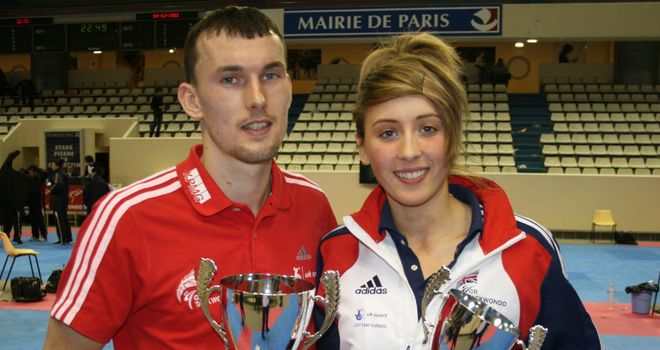 Martin Stamper: superb 2011 season
Taekwondo fighter Martin Stamper admits it feels as if his success over the past 12 months has somewhat slipped under the radar - but he is only really concerned about making headlines at the London Olympics.
Taekwondo's profile in the UK has grown markedly over the last year, with Sarah Stevenson - a bronze medallist at the 2008 Beijing Games - triumphing at the World Championships.
Stamper has enjoyed a superb 2011, winning gold at the US, German and British Opens, silver at the French and a World Championship bronze.
Although they were recognised when he was named GB Taekwondo's 2011 Olympic Athlete of the Year, the Liverpudlian believes his achievements have been overlooked at times.
Stamper is content to stay out of the limelight for now, though, knowing that if he can maintain his form, he is likely to make a big impression in the capital this summer.
"Last year, sometimes I would see the headlines and other people were getting them," said Stamper.
"I was performing amazingly and I would get a little bit frustrated that I wasn't getting the credit I deserved - that's what it felt like.
Plaudits
"But I thought to myself 'just keep going and keep winning medals.' If I get to the Olympics and I get the plaudits then, I don't mind too much.
"It is frustrating sometimes, but I think people have started to pick up on how well I have done now and if I can get to the Games and get a medal, then I really won't care."
Stamper is in pole position to be selected in the under-68kg category for London - a final decision will be made after the European Championships in Manchester in May - and the 25-year-old is confident he has what it takes to go all the way and claim an Olympic gold medal.
"We fight the best in the world in every competition, in every Open, and last year I think I beat three or four athletes who had been at Beijing, so it's looking good," Stamper said.
"There are two other people in my weight who are of a really good standard and I've beaten one of them.
"I don't think it (a gold medal) is beyond my grasp. I think if I perform to my best on the day, then I'll be pretty unbeatable."