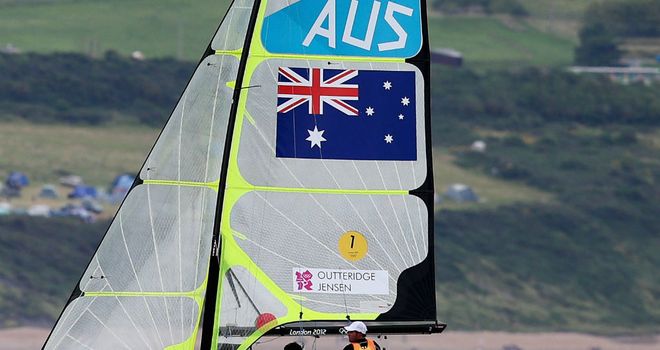 Nathan Outteridge & Iain Jensen: Aussie duo win gold
Great Britain's Stevie Morrison and Ben Rhodes saw their hopes of a bronze medal end as Australia got another gold on the board off the Weymouth coast.
Britain's Exmouth sailors have had an indifferent regatta, only managing to show flashes of their true ability, and came into the 49er class medal race six points off the bronze medal - the only podium position yet to be decided.
However, Morrison and Rhodes fell short in a tense race on the Nothe Course and finished fifth as Denmark's Allan Norregaard and Peter Lang secured bronze.
Australia's Nathan Outteridge and Iain Jensen had already wrapped up gold, while New Zealand pair Peter Burling and Blair Tuke had also already sealed the silver.
The teams only had to turn up and compete in the medal race - even if they finished last - to clinch the victory, which they duly did to leave just bronze up for grabs.
Medal race
Morrison and Rhodes came into the medal race in fifth place, six points behind Norregaard and Lang in third after the 15 opening fleet races, and were one of a number of teams in with a chance of a podium finish.
"It is just the nature of sailing, really," Morrison said. "We have done eight races here under the Nothe, which is obviously very shifty and gusty.
"We have not particularly done ourselves justice on this particular course and on the bigger courses we've really sailed a good week. It is pretty gutting, but what can you do? It's done now and we move on.
"It is amazing the support we got on there (the Nothe) and our family and everyone is there, which is really cool. But it is pretty gutting because we really kind of threw it away in the middle of the week.
"We should have been far better off in the points, but we weren't and that is how it is."