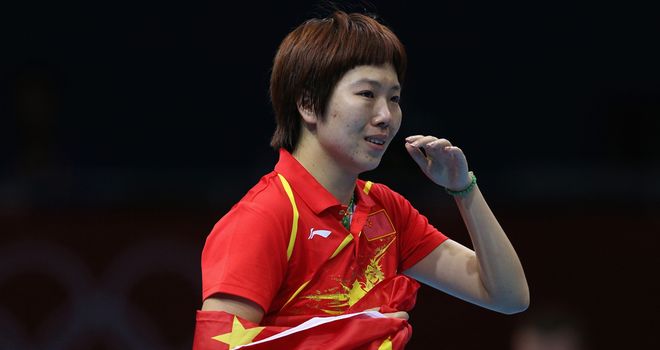 Li Xiaoxia: Caused an upset to win gold
Gold medal favourite Ding Ning of China suffered defeat at the hands of compatriot Li Xiaoxia in the final of the women's singles.
Much of the focus heading into the battle was on 22-year-old Ding, who last year won the World Cup and World Championships.
That meant she needed to emerge victorious at the Games to complete a Grand Slam, following in the footsteps of the great Zhang Yining.
But world number three and second seed Li had other ideas, with the 24-year-old's added power proving too much for Ding, who had to settle for silver after losing a tetchy encounter 4-1 - 11-8, 14-12, 8-11, 11-6, 11-4.
The encounter could well mark the beginning of an enthralling rivalry in table tennis, with both players having age on their side.
For Ding, there was disappointment but she will surely have plenty of chances to seal the Olympic gold that would finish her Slam.
Aggressive
The action started in enthralling fashion as the duo traded backhands loaded with finesse and aggressive forehands.
Yet, despite her opponent being favoured, Li looked the more powerful in the opening game, producing a series of eye-catching loop winners to edge it.
The rallies were again closely fought in the next, but, given the chance, Li was producing immense shots.
She moved into a 10-5 lead and looked certain to move two up - only for Ding to then up her tempo and win the next four points.
Li duly took her only time-out in an attempt to compose herself - not that it worked as her opponent's last-ditch backhand forced an error.
The duo then traded blows in a series of thrilling rallies and, having denied her opponent two game points, Li moved 2-0 ahead with a forceful cross-table backhand.
Ding was shown a yellow card for displaying her frustration before game three, in which she played with a composure that belied her annoyance.
With an 9-8 lead, Ding called for a well-judged time-out before taking the next two points to reduce the deficit.
Undeterred, Li came out strongly again in the fourth; the added fizz in her shots leaving a nervous-looking Ding flat-footed.
Penalised
The favourite was then penalised a point for not tossing the ball high enough before Li was handed another as Ding was given a red card for taking her towel - which can be used to wipe a player's face every six points - too early after protesting.
Eight-two down at that stage, Ding rallied to reduce the score to 10-6.
But Li then profited from some good fortune as the ball bounced in having clipped the next, with her opponent's return going into the net.
After Ding was spoken to by the umpire in the break, the final act passed without the same level of tension, Li sealing victory in her most dominant game of the match.