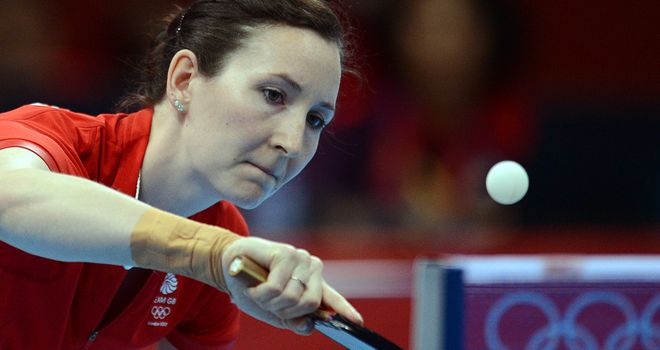 Parker: Cruised to victory
Great Britain's table tennis hopefuls Joanna Parker and Paul Drinkhall both passed their first assignments with flying colours on Saturday.
Parker, Britain's only representative in the women's singles event, entered the match as favourite given she sits 73 places above her opponent Caroline Kumahara in the ITTF rankings.
That was negated somewhat by the Brazilian being able to warm up for the match via a comprehensive 4-0 preliminary-round victory over Yasmin Hassan Farah, who managed just eight points throughout Saturday morning's clash.
Yet spurred on by a raucous home crowd that afforded her a quite incredible ovation, Parker forced her opponent into the net during the first point and never looked back.
In the end, she completed her 4-0 success (11-7, 11-5, 11-9, 11-5) and booked a second-round clash with world number 47 Kristin Silbereisen.
In a contest of force versus finesse, Parker's defensive strategy proved the perfect antidote for her opponent's aggressive - and all too often wild - forehands.
Profiting from serving first she made a confident start and duly forced early errors.
Kumahara, though, soon found an answer to the Brit's guile with several powerful forehands giving her the advantage.
Parker did not move from her gameplan - a decision that paid dividends as she claimed the opening game 11-7 following some fine defensive play.
Buoyed and clearly settled, the 25-year-old raced into a 5-0 lead in the next and, although Kumahara briefly threatened a revival, moved 2-0 ahead.
As Parker's confidence grew, so did her intent, epitomised by the delivery of some well-timed smashes whenever her opponent's returns lacked the necessary fizz.
Kumahara held 4-1 and 9-5 leads in the third, yet Parker again had the answer and eventually completed an imperious revival to extend her advantage.
Clearly beaten, Kumahara was never able to live with the home favourite thereafter and Parker completed her triumph in fine style.
Drinkhall delight
Drinkhall later capped a fine day for the British table tennis squad with a straight-games success against Kuwait's Ibrahem Al-Hasan.
Afterwards, the team's only representative in the men's singles, who is the boyfriend of Parker, said the crowd made him feel more like a rock star.
He said: "I have been to concerts and, obviously there are a lot more people there, but this is an experience like that.
"I managed to see the Queen this morning as well. She visited the village and I got some snaps. I did not meet her but was stood about a metre away from her."
Such an amazing day came on the back of disappointment for Drinkhall, who - much like Parker -was forced to miss the opening ceremony due to his participation on Saturday.
It is not a decision he regrets, with the Middlesbrough-born right-hander insisting he would not swap today's triumph for anything.
He added: "When Jo initially said we should miss it, I said 'Are you joking?'. But then I thought about it and decided I would rather win today.
"It might not have even affected me, but if I had lost today then I would have been pretty peed off.
"In the end, we got to experience it on the balcony and I think we actually had the best view of the fireworks!"