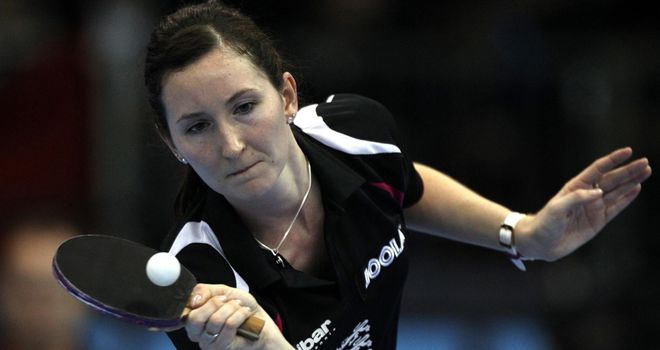 Joanna Parker: The GB player will lead the charge at 2012
According to Richard Yule, the English Table Tennis Association chief executive, the London 2012 Olympics represent the first phase in a plan to see Britain's players competing with the world's elite.
On Tuesday, a six-player squad was named by the British Olympic Association for the Games, with Paul Drinkhall and Joanna Parker leading the charge in the singles competitions.
"There is no question that table tennis in the UK is improving. "
Richard Yule Quotes of the week
Joining Drinkhall will be Andrew Baggaley and Liam Pitchford for the team event, while Parker will line up alongside Kelly Sibley and Na Liu.
Every member of the squad had to utilise the host nation qualification places, after they failed to secure a spot in their own right.
This is a luxury they will not be afforded for the 2016 Olympics, which take place in Rio de Janeiro, however Yule does not envisage that being a problem.
Encouraging
He said: "There is no question that table tennis in the UK is improving.
"All of the players selected are on an upward trend in terms of the world rankings, which is encouraging.
"All of them are also professionals, who are good enough to earn money playing in Europe and the UK in a very competitive marketplace.
"There has been a significant improvement and table tennis, according to government statistics, is enjoying a surge in popularity - which bodes well in the future.
"I am quite confident that our targets to qualify people by right for Rio and then to go and be medal contenders four years after is a realistic ambition."
Talent
Yule's targets become all the more realistic when you evaluate the age of the squad that will compete in this year's event- Drinkhall, Pitchford, Sibley and Parker are all under 24.
It is these players that Yule expects to fulfil his ambitions, yet he is fully aware of the challenge they face this summer.
He added: "We have got the talent. But we are up against the world's strongest sporting nation (China) in their favourite sport.
"They have dominated all of the major events and we understand that, but our goal is to make progress. Our performance plan is geared towards getting players to qualify by right and do some damage at Rio.
"Then, four years later, these players will still be in their prime and we hope they can really be in contention."