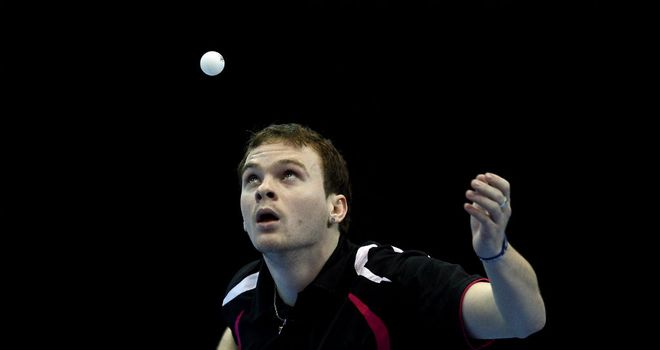 Paul Drinkhall: Four-time National Champion
The British Olympic Association has named six athletes to represent Team GB in the London 2012 table tennis competition.
Four-time National Champion Paul Drinkhall is the top-ranked home player.
The 22-year-old from Middlesbrough recently broke into the world top 100 at senior level having enjoyed success at junior level, including three European junior titles and a silver medal at the World Junior Championships.
Drinkhall is joined by 18-year-old Liam Pitchford, who won two medals at the 2010 Commonwealth Games in Delhi.
Pitchford demonstrated his potential at the European Championships where he beat four players ranked in the world top 100, including world number nine Vladimir Samsonov and number 20 Alexey Smirnov.
The men's squad is completed by the experienced Andrew Baggaley, 29, who has won five Commonwealth Games medals and is a three-time English men's singles national champion.
Drinkhall said: "It's a great achievement to be selected for Team GB. It's a once in a lifetime opportunity to play in a home Games. I can only guess how it will feel but it's a fantastic opportunity."
Women's team
The women's team includes English national champion Joanna Parker, 25. Joining her is Kelly Sibley, also a national champion and won 10 matches in a row at the 2011 European Championships in Poland to help the women's team to promotion to the top tier.
The team is completed by Na Liu, 29, who is a regular competitor on the ITTF Pro Tour.
Team GB Chef de Mission Andy Hunt said: "I am delighted to welcome a full complement of six table tennis players as officially selected members of Team GB for London 2012.
"Both the male and female teams include a good balance of youth and experience. The likes of Paul Drinkhall and Liam Pitchford have demonstrated great potential at junior level, which bodes well for the future of British table tennis."
Table Tennis team leader Jill Parker added: "This will be the first time that we will have competed in both the men's and women's team event. Our athletes have prepared incredibly thoroughly for this chance of a lifetime, and with home support, they are confident they will rise to the occasion."