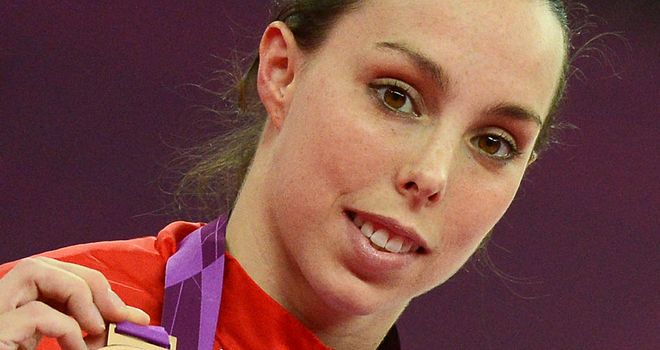 Beth Tweddle: Has ended long wait to win an Olympic medal
Great Britain's Beth Tweddle ended her wait for an Olympic medal as she claimed bronze on the uneven bars at the North Greenwich Arena.
The 27-year-old went into the Games as Britain's most successful gymnast, with three world, six European, seven British medals to her name.
A medal on the biggest stage of all had so far eluded her, but she put that right with a routine that was virtually flawless until she misjudged her landing.
Russia's Aliya Mustafina claimed gold with a score of 16.133 ahead of defending Olympic champion He Kexin of China, who claimed silver with 15.933. Tweddle's 15.916 was good enough for third.
Even though she did not manage to claim the Olympic crown, Tweddle was delighted to win her first medal at the Games.
She said: "It means everything. I just wanted to win a medal it didn't matter what colour."
He was first to compete and produced a near-perfect routine as an anxious Tweddle, who finished fourth on the uneven bars four years ago in Beijing, looked on.
Marker
It was slightly down on the Chinese gymnast's total in qualification but it set an impressive marker at the start of the final.
Victoria Komova, reigning world uneven bars champion who won silver in both the team and individual all-around, was next and scored a disappointing 15.666 despite a strong double-double landing after she caught the lower bar during her routine.
German Elisabeth Seitz, the last-place qualifier, moved into bronze medal position before China's Yao Jinnan overtook her and into silver with a score of 15.766.
Tweddle then stepped up to perform her routine to tremendous cheers from the home crowd.
The City of Liverpool gymnast produced a beautiful routine, brimming with complexity and with the maximum difficulty on her dismount, but needed to take a couple of steps on her landing after she struggled with the last rotation.
The judges scored Tweddle's routine down on her 16.133 qualification mark, which moved her into silver medal position behind He.
Mustafina then stepped up and produced a brilliant routine, pushing He into silver and Tweddle down into bronze medal position with two gymnasts still to come.
Japan's Koko Tsurumi did not trouble to top of the leaderboard as she went seventh, while American Gabrielle Douglas was also unable to overhaul the Brit.