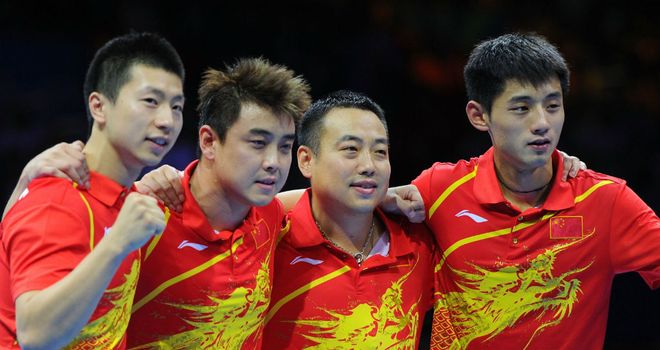 China: men's team saw off South Korea 3-0 in a one-sided final
China clinched a clean sweep of Olympic table tennis gold medals for a second successive Games after seeing off South Korea in the men's team event.
The Asian powerhouses maintained their dominance from Beijing four years ago thanks to the efforts of Ma Long, Zhang Jike and Wang Hao.
South Korea's trio of Ryu Seung-min, Joo Sae-hyuk and Oh Sang-eun had no answer to their opponents and fell to a comprehensive 3-0 defeat.
Ma and Zhang both won their respective singles matches before the latter teamed up with Wang to see off Oh Sangeun and Ryu in the doubles.
Victory for the men follows up the team success of China's women, as well as the individual golds for Zhang and Li Xiaoxia.
Maximum haul
It means the squad has achieved a maximum haul of four golds and two silvers, an impressive effort considering the International Table Tennis Federation (ITTF) had reduced the amount of players countries could enter into the singles to two.
However, ITTF president Adham Sharara claims the reduction was not made to stop China, but admitted it was one of its positive side-effects.
"We realised the number of NOCs in table tennis was too small in comparison to the amount of associations," he said.
"We have 217 member organisations and there are 199, I believe, NOCs. Yet we would only get 46 or 47 participating in table tennis.
"That took chances away from other NOCs, so the only way to change was to have more entries - which the International Olympic Committee does not allow - or have less per NOC.
"We did not realise the reaction from China would be so negative. They thought we were targeting them directly.
"We had complaints from Germany and Japan too, but everyone initially accepted except China. Eventually, though, they understood the purpose and that them winning the three medals was not a good thing."
Germany, meanwhile, took the bronze medal as their trio of Timo Boll, Dimitrij Ovtcharov and Bastian Steger beat Hong Kong 3-1.