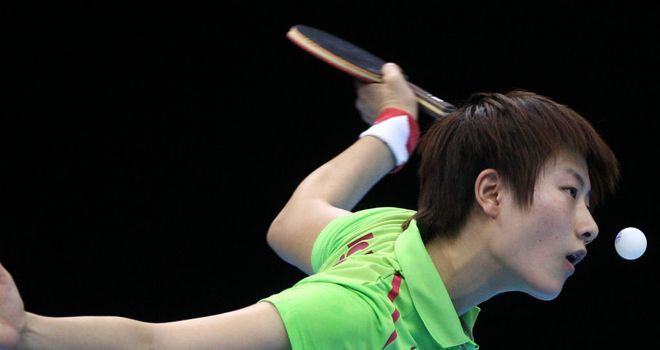 Ding Ning: On the verge of completing the Grand Slam
China's Ding Ning moved a step closer to completing a Grand Slam after sealing her place in the final of the women's singles.
Having won the World Cup and World Championships last year, Ding is on the verge of completing the haul of table tennis' major crowns at the age of just 22 after beating Singapore's Tianwei Feng 4-2.
If she finishes the job on Wednesday - against team-mate Li Xiaoxia - Ding will become only the second female to achieve the feat, following in the footsteps of the great Zhang Yining.
In a tight opening, Feng gained some early joy, but, once settled, Ding quickly found her best form and took the game 11-7.
The world champion's forehand, in particular, was imperious and throughout she showed a masterful ability to turn defence into attack.
Backhand
As if keen to prove the rest of her repertoire, Ding started with a vicious backhand attack in the next, taking the first point of a game she went on to win 11-4.
Undeterred, Feng produced an array of loops to take 5-1 and 9-7 leads in three, after which she showed great heart to see out the game after Ding had levelled to 9-9.
But her opponent's superior all-round abilities came to the fore once again in a close-fought fourth, which Ding took 12-10 after being pushed all the way.
The next act provided much of the same competitiveness, including an astonishing rally - won by Feng - that left the crowd gasping.
That proved crucial as she went on to take the game 11-6, only for Ding to decisively win the next 11-5, ending matters with a forehand loop that the sixth seed failed to return.
Afterwards, Ding admitted victory in the final would surpass anything else she has achieved in her already-distinguished career.
"Every championship for me is the same; they are so important to me," she said. "But the Olympic Games is probably greater than the others."
Class
Much like her compatriot, Li has encountered few problems in reaching the final and had too much class for Japan's Kasumi Ishikawa.
Li was in charge for much of her 4-1 triumph.
The first two men's quarter-finals also took place on Tuesday with Chuang Chih-yuan thrashing Adrian Crisan in straight games, the Taiwanese losing just 16 points.
Germany's Dimitrij Wovtcharov then won a thrilling battle against Michael Maze, coming from three points down in the final game to eventually win it 11-9.
The two other last-eight men's matches take place on Wednesday.