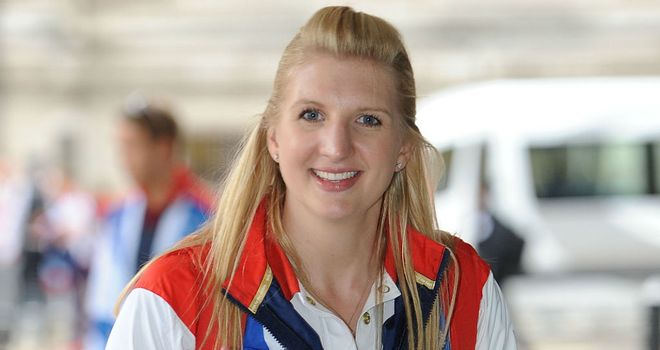 Rebecca Adlington: Enjoying life's simple pleasures after the Olympics
Olympic swimmer Rebecca Adlington has said it is "nice to be normal" after her gruelling training regime leading up to the London Games.
The 23-year-old, who scooped two bronze medals in the 800m freestyle and 400m freestyle events, said she was enjoying having a more relaxed life and taking some time out from swimming.
Privilege
Speaking at a homecoming celebration in her hometown of Mansfield on Tuesday, Adlington said: "It's been nice just to be normal.
"It's been nice that I can just wake up when I want, eat what I want.
"I don't have to be like I should have sandwiches and fuel myself in the right way, I can have chips if I want.
"If I want to have an ice lolly I can, if I want to have something at 4pm, I can.
"It's been such a privilege to do that, it's unbelievable how it's been great to be normal, people take it for granted.
"It's been nice that I can just wake up when I want, eat what I want. "
Rebecca Adlington Quotes of the week
"It's been nice to not have to think about getting in a pool or any pressure or getting back into racing or even think I'm going training at this time.
"It's been nice just to switch off and just completely relax."
Memories
Hailed as Great Britain's most successful female swimmer after she won two gold medals in Beijing in 2008, she said the home crowd support made all the difference to athletes and she had some wonderful memories from the Olympics.
"We've all got so many amazing memories, it's just been absolutely incredible," she added.
"The whole thing, even afterwards, the support that we're still getting even now is just incredible and everyone's really sad it's over."
She also added: "Rio is just going to be incredible. Whether I'm competing or cheering, I am going to be in Rio, like, full on GB banner going mental - it's going to be incredible."
Welcome
Hundreds gathered in the Nottinghamshire town's market place to welcome home Adlington and fellow swimmers Charlotte Henshaw, Ollie Hynd, whose brother Sam was unable to attend because he was at a charity event, and badminton player Chris Adcock.
Ollie Hynd, 17, said his 21-year-old brother was happy for him when he pipped him to silver in the pool during the S8 400 metre freestyle event.
Ollie was second in four minutes 27.88 seconds - a personal best - with Sam third in 4:32.93.
Ollie brought back the full collection of medals from the Paralympics by adding gold in the SM8 200m individual Medley and bronze in the S8 100m Backstroke.
Henshaw, 24, took a silver medal in the SB6 100m breastroke.
Next goal
Away from the pool, Adcock, 23, represented Team GB in the mixed doubles badminton.
He and his partner Imogen Bankier did not take home the medal they wanted after they were eliminated in the first round group stage but the disappointment has spurred him on to work towards the next goal, he said.
"I came back and had a bit of down time but because I didn't get quite what I wanted I was back in training within a couple of weeks, so really motivated towards the next goal which is the World Championships next year and Rio."