Swimming is one of the marquee events of the Olympics and, having been included in all the modern Games since their introduction in 1896, has a rich history.
From the days Johnny Weissmuller, who would go on to play Tarzan on the silver screen, winning five golds in the 1920s, to Michael Phelps writing himself into the history books last time out with eight golds at a single Games, the sport has always produced 24-carat Olympic memories.
GLOSSARY OF TERMS
Flags - A line of flags appears above the pool 5m from each end. These are for the benefit of backstroke swimmers so they know when they are approaching the end of the pool.
Holding room - Where the swimmers gather immediately before the race as they wait for the previous event to finish. Often referred to in TV/radio commentary.
Lanes - Each swimmer in the pool has their own lane, a straight-line section of water into which no-one else is allowed.
Lane Rope/Floats - Each lane is divided by a lane rope, usually specially designed to prevent waves from forming in the pool. These are made up of a series of plastic floats so they rest on the water surface.
Length - When an athlete swims from one end of the pool to the other they have completed one length of the pool.
Long Course/Short Course - The Olympics are held in a 50m 'long course' pool but some other swimming competitions are held in the 25m 'short course' pool.
Medley - A race combining all four different strokes
Starting platform - Swimmers competing in freestyle, breaststroke and butterfly races begin the race by diving into the pool off a starting platform placed on the edge of the pool and 75cm above the water surface.
Stroke - The style of swimming an athlete is using in the race, ie backstroke.
Touchpad - Attached to the wall of the pool (see below). Swimmers touch it to indicate they have turned or finished. The touchpad is used to provide timing measurements.
Turn - Swimmers must make a turn at the end of each length so they can head back in the other direction. There are rules governing how these turns are made - ie freestylers do a tumble turn in a forward roll fashion. The type of turn depends on which stroke is being swum.
Wall - The end of the pool which the swimmers must touch before turning or at the finish.
15m rule - After the start, swimmers are allowed to swim a maximum of 15m underwater before surfacing. The 15m limit is marked by different coloured floats on the lane ropes.
In this day and age it is split into three main categories - your regular swimming races in the pool, open-water 'marathon' swimming (that's 10km in a lake) and synchronised swimming, which is essentially a different sport entirely.
The most famous, of course, is the first of those categories.
Swimmers use four different stroke styles - freestyle (these days swimmers use what is in layman's terms known as the front crawl), breaststroke, backstroke and butterfly - and compete in lanes over distances ranging from 50m (one length of the pool) to 1,500m. As well as individual races, there are several relays in which teams of four compete against each other.
The open-water endurance event does not feature lanes - it's a free-for-all in a lake, in London's instance, Hyde Park's Serpentine.
As for synchronised swimming, it's often referred to as 'water ballet' with swimmers performing artistic routines which are scored by the watching judges.
History
Swimming is one of few sports which has featured in every edition of the modern Olympic Games since Athens in 1896.
The first games saw just men compete in freestyle and breaststroke. Backstroke joined the party in 1904. Butterfly - which evolved from swimmers changing their breaststroke style - is the most recent of the strokes which was introduced to the Games post-war.
Early Olympic swimming was contested in open water, while London has the claim to fame that is staged the first events to be held in a pool in 1908. That pool was actually built inside the athletics track at the main stadium.
These days the sport has evolved into a truly global one and more nationalities will compete in the pool in London than in virtually any other sport.
In recent years the professionalism of the sport has seen technology pushed to the limits, with streamlined suits made from the latest fibres seeing world-record times plummet.
However, many such suits have now been banned with the sport's governing body, FINA, acting after so many records fell in such a short space of time. More traditional suits will therefore be on show in London.
In the other categories, man has been swimming lakes and rivers since pre-historic times, but Beijing 2008 saw the first Olympic open-water 'marathon' events.
Meanwhile, synchronised swimming is also a fledgling Olympic sport having only been in the programme since 1984.
Its roots link back to Australian Annette Kellerman's 'water acrobatics' tour of the US back at the start of the 20th Century.
Best of British
Rebecca Adlington, the current star of British swimming, ended a 20-year wait for British Olympic gold in the pool when she claimed two freestyle titles in Beijing.
It was the nation's first female triumph at Olympic level since Anita Lonsbrough's success in Rome back in 1960 and the first by anyone since another breaststroke star Adrian Moorhouse's memorable success in Seoul.
However, despite Adlington's double triumph, Henry Taylor's haul of four golds - and eight medals in total - at the start of the 20th century means he remains Britain's number one Olympian in the pool.
Current TV pundit Sharron Davies, Sarah Hardcastle and Steve Parry are other well-known names to have medalled for GB in the pool in more recent years.
Kerri-Ann Payne, Cassie Patten and David Davies all bagged medals in the open-water category in Beijing.
Olympic Greats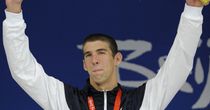 Michael Phelps will be back in the pool in London
Two names immediately come to mind here - Michael Phelps and Mark Spitz.
In Beijing last time out, Phelps swam to a remarkable eight gold medals, refusing to wilt despite a packed programme of races.
For the record, he was crowned champion over 100 and 200m butterfly, 200 and 400m individual medley and 200m freestyle, while he was also part of the US relay teams which won the 4x100 and 4x200m freestyle and 4x100m medley.
His achievement saw fellow American Spitz's feat of seven golds at the Munich Games of 1972 wiped from the record books.
In the women's events, East German sprinter Kristin Otto will be remembered for her heroics in Seoul where she won six gold medals over three different strokes.
American Jenny Thompson also features in the record books having won eight Olympic golds, although all of her wins came in relay events.
Ones to watch
The aforementioned Michael Phelps is back for more in 2012, although he won't be trying to win eight golds this time. A different programme beckons for the American four years on from his Beijing heroics.
DID YOU KNOW?
Johnny 'Tarzan' Weissmuller did more than just star on the silver screen. He was the first man to swim 100m in under a minute, while he is also credited with saving 11 lives after a boat capsized on Lake Michigan.
The USA are far and away the most successful swimming nation at the Olympics, winning 214 gold medals. Australia come next in the all-time list with 56.
London could also see Ian Thorpe back in an Olympic pool for the first time since Athens 2004 as the former teen prodigy has announced his intention to swim at the Games.
Thorpe's fellow Aussie Libby Trickett, a gold medallist in Athens and Beijing, is attempting a similar comeback so will be one to watch if she makes it, as will American Dara Torres who could compete in her sixth Olympics if she qualifies at age of 45.
Much will also be expected from the new Australian breed which includes Emily Seebohm - or 'The C-Bomb' as you will doubtless hear her referred to - while American multi-eventer Katie Hoff is also likely to be targeting several medals.
Then, of course, the host nation will be hoping Rebecca Adlington can again dominate the distance freestyle events.
In the open-water, Russia's Larisa Ilchenko is a feared competitor, who has dominated her sport. She edged out two Britons to win gold in Beijing.