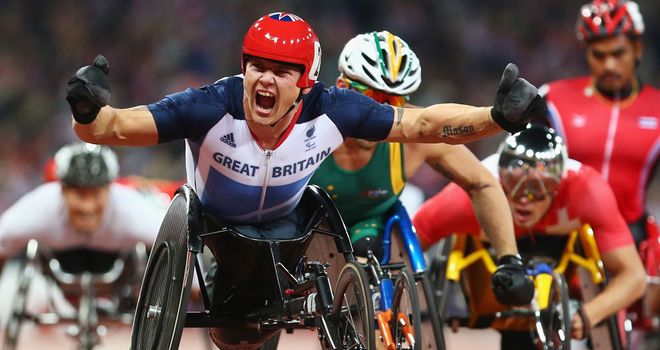 David Weir: His performance was on another level
I was looking through some of the Twitter quotes related to the Paralympics and one in particular struck my attention.
British actor/comedian/all-round good guy, Simon Pegg, tweeted: "Watching the Paralympics, you realise what an utterly stupid term 'disabled' is."
It is entirely true. Over the past few days I have lost count of the amount of people who have commented on the phenomenal abilities of the Paralympic athletes.
The Games have brought about a great sense of respect for their achievements, more so than any other Paralympics in history. So often you can look at someone and see what they can't do, but the Paralympics are about showing the world what the athletes can do.
I was watching the sitting volleyball today and I noticed myself looking at the MD classed players - those who are minimally disabled - as if they were out of place. The rules state that one player on the court can be MD classed, which in sitting volleyball usually means the individual has played volleyball in the past and suffered from knee problems. For example, anterior cruciate ligament damage which requires an ACL reconstruction. The MD players are usually quite tall and act as impact players, as only one MD can be on the court at a time. I'm not sure why they look odd on the court, maybe I am just not quite as impressed by their level play because they have all of their limbs - where their teammates often don't.
I have loved the excitement and buzz that has enveloped the ExCel Centre, but to be honest I am still in shock at Sunday night's T54 5,000m race. Great Britain's David Weir was remarkable and I wish I had been at the stadium to see it. Not only did Weir win the gold, but for me it was the hardest fought race I think I have ever seen. Weir left all that he had on the track, and his celebrations showed just how much it meant.
We see athletes constantly pushing themselves until the end, whether that is a finish line, a match point, or the final buzzer. And of course every elite athlete works as hard as they can to be the best. But David Weir's performance was on another level. You could feel every single ounce of energy, effort, and determination going through his body. For the tweeters out there, #goosebumps and #inspirationalathlete.
The entire Paralympics has already been a huge success. And I don't want to go jinxing anything, but when you consider the Great Britain Paralympic team are already on 63 medals (remember there are still five days to go), compared to the 65 that the Great Britain Olympics team achieved. Well, that is a huge feat and one that they can be very proud of.
Another aspect that really pleases me is the feedback from the actual athletes themselves. At the end of the day it is their experience of the Paralympics that matters most. Not necessarily with reference to the sport (although a medal would certainly help), but to the organisation, facilities, and overall professionalism that they are being shown.
Someone told me today that a Paralympics has never been at such a high standard. London has now set a benchmark, so let it continue.