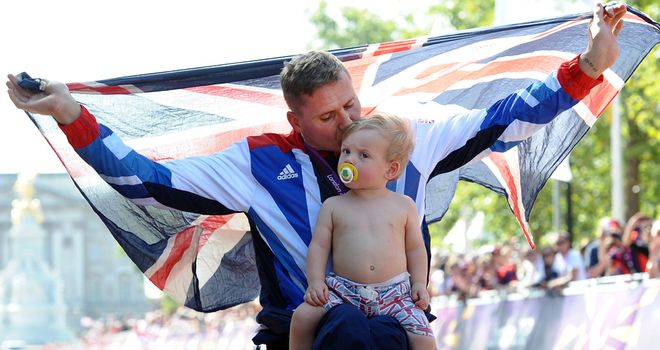 David Weir: Celebrates with his son Mason
David Weir has been hailed as the complete racer by Paralympic athletics chief Peter Eriksson after the 33-year-old won his fourth gold medal at the London 2012 Games.
Weir proved that he could win at any distance after battling through the "toughest race" of his life to clinch the Marathon title in the time of 1:30:20 on the final day of the Paralympics.
The head coach, who has trained athletes to more than 100 Paralympic medals, added: "You can see it on the track with the speed and acceleration, but now he's showing the best endurance too. How much better can it be? The best racer I've seen in history."
Over the past week, Weir has delighted thousands of people in the UK after taking the T54 800, 1,500 and 5,000 metres titles at the Olympic Stadium.
The Londoner was then released on to the sunny streets of the capital after his domination on the track but felt the near 30 degree heat just five miles into the race.
Energy
The 'Weirwolf', who was cheered on by his pregnant partner Emily Thorne and one-year-old son Mason, said: "I didn't think I was going to manage to cope, with the heat and everything. I felt flat.
"I had to just dig deep and have another energy shot that I took with me just to get me going. That was meant for about 16 miles, not the first five miles, but I'm glad I took it on board. It just gave me a bit more energy."
The wheelchair racer was among the leaders throughout the entire race and as he approached the final bend into The Mall in first position, opponents Marcel Hug and Kurt Fearnley could not do anything to catch the Brit.
However, team-mate Shelly Woods had a different experience on the track after encountering three successive disappointments.
But with a final race in the Marathon, she rescued her Games in style by pulling off a gusty silver; the last medal won by Paralympics GB.
Eriksson said the Games have been "a nightmare" for Shelly but do what she did is "phenomenal."
Team GB's athletics team finished with 29 medals in total, 11 of which were gold, surpassing the 17 and two golds, both won by Weir, from Beijing four years ago.