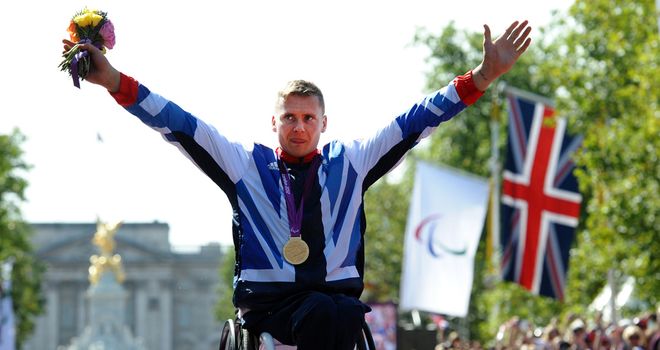 David Weir: claimed four of Great Britain's 18 gold medals at the Games in London
The British Paralympic Association are refusing to rest on their London 2012 Games laurels and are looking to push on in Rio de Janeiro in four years' time.
The host nation finished third in the medal table with 34 golds - including four each for cyclist Sarah Storey and wheelchair racer David Weir - and 120 in all, behind only China on total medals won.
The haul was 18 more than claimed in Beijing in 2008 and 17 more than the target set by UK Sport, but Britain fell short of their ambition of placing second in the standings.
Russia pipped Britain to second place in a hotly-contested Games, which featured 503 medal events contested by over 4,200 athletes, as six nations claimed 30 or more gold medals.
Britain had numerous athletes who won medals in their first Games, while in 50% of the events in which the hosts claimed silver they were beaten by world, Paralympic or continental records.
BPA performance director Penny Briscoe said: "From a performance perspective we are thrilled with what the team has produced.
"We've been part of an incredible Games, the most competitive ever Paralympic Games.
"We have been in a momentous battle over the last 11 days. We've stood tall, we've given everything that we could've done.
"Whether it be the experienced campaigners that have multi-medalled, the Sarah Storeys, Dave Weirs, Ellie Simmonds, but they've been joined by a new cohort of athletes.
"Fifty-four of our medallists are 22 or under and I think that that bodes really well in terms of our focus as the Games end on Rio.
"A significant number of under-18 and under-21s won really significant medals - Jonnie Peacock is one of the faces of the Games."
Disappointment
There were anticipated gold medals that did not materialise for hot favourites Lee Pearson (equestrian), Jody Cundy (cycling) and Tom Aggar (rowing), among others, and missing out on second place in the table irked Briscoe.
"There's a little bit of disappointment," she added.
"On one hand we're absolutely delighted, but we're never satisfied and we wouldn't be the nation that we are, have had the success over the last three Paralympiads and be where we believe we can be in Rio, if it didn't rankle. It isn't in our psyche."
Russia, Ukraine, the United States and Australia joined Britain on a total of 30 gold medals or more, while Brazil, hosts of the XV Paralympics four years from now, accumulated more than 20 golds.
"Every medal that the British team has won has been hard won," Briscoe added.
"No medal has been easy. Forty-six percent of those athletes competing in individual sports have medalled.
"The statistic is a British medal once in every four events that have been held. Those are fairly impressive statistics."
The BPA will continue to search for new athletes, beginning with a Paralympic Festival in December, to emulate the likes of Peacock and cyclist Mark Colbourne who emerged in the cycle since Beijing, the latter winning Paralympic gold three years after breaking his back in a paragliding accident.
Sports such as goalball and sitting volleyball were not represented in Beijing and took advantage of host nation slots to participate in London.
Discussions over qualification criteria for Rio are still to come as are funding decisions, but the BPA hope to build on London.
BPA chief executive Tim Hollingsworth said: "Our ambition remains the same. We're on a journey here.
"We don't want to see this as being a high water mark. This is a journey that we're on.
"We've got a lot of momentum coming out of these Games that we want to keep in performance terms."