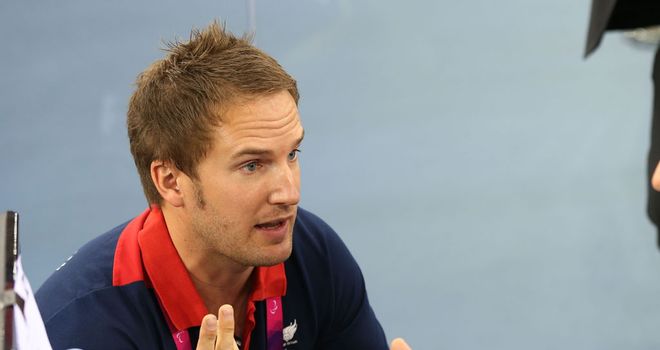 Gareth Sheppard: Has welcomed the challenge to Great Britain's dominance
Paralympic performance manager Gareth Sheppard has welcomed the challenge to Great Britain's dominance in the velodrome.
Competition at the London 2012 velodrome concluded on Sunday with Britain's Paralympic team winning 15 medals, including five gold, across four days of competition, following seven gold and nine medals in all in six days of Olympic competition for the hosts.
Medals were won in every Paralympic event entered as Britain finished ahead of China, who also won five gold medals, but claimed a total of nine. Australia were third with four golds, with the United States, Spain, New Zealand and Romania winning a gold apiece.
The haul could have been greater. In six of the seven events in which Britain won silver medals, the margin of defeat was narrow, while the other event was one won by the hosts.
"This is becoming more and more like able-bodied Olympic sport."
Gareth Sheppard Quotes of the week
Margins
"This is becoming more and more like able-bodied Olympic sport," commented Sheppard.
"Those margins of victory are becoming hundredths of a second, thousandths of a second. We've never had that in Paralympic competition before."
In China four years ago, Britain's Paralympic squad won 12 out of 13 events, but the classification system was altered by cycling's world governing body, the UCI, in the intervening years and further amendments possible.
Sheppard expressed satisfaction with his team's haul and hopes for further success at the 2016 Games in Brazil, with riders being recruited all the time.
"The goalposts will move and we've just got to adapt to the environment they put in front of us," he continued.
Realistic
"We've got to be realistic into putting all of our efforts into the medals we can target, rather than spreading ourselves too thin across the board.
"If you look at some of the women's classifications there's still big gains that can be made within those, the C1 to 3 (classifications). We'll look to target gaps and try to improve on where we are now.
"We're funded by UK Sport to be able to achieve medals at Paralympic Games. The World Championships on the way will be building blocks, but the next one is Rio for us.
"We've got to look at where we can target medals and then aim and hope to surpass our haul in another four years' time.
"There's no secret, just fantastic coaching, great support work and the athletes. The effort those guys put in.
"They knuckle down, they've got the best coaches, the best support staff and we work with a fantastic group of athletes. That's why we get those results."