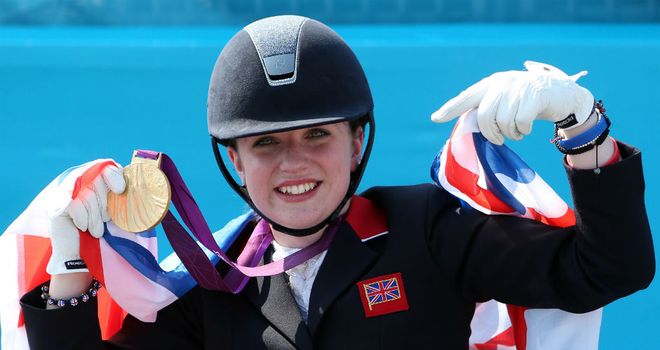 Natasha Baker: Her dressage victory added to ParalympicsGB's impressive medal haul
Great Britain's athletes have enjoyed a "superb" start to "an incredible" Paralympic Games, team chiefs said on Monday.
ParalympicsGB are well ahead of schedule in the targeted medal tally of 103 - having smashed through the half-way point after just four days.
Britain currently stand second in the medal table, with a tally of 56.
On Monday, Natasha Baker's dressage victory and Paul Davies's table tennis bronze medal took Britain's tally to 17 gold, 24 silver and 15 bronze medals.
Superb start
Craig Hunter, ParalympicsGB chef de mission, said: "It has been a very exciting first four days of competition, obviously the mood in the camp is very positive because we've got off to a superb start.
"We are second on the medal table this morning, so we are obviously very pleased with that.
"It's been a challenging first few days, with Australia obviously, we've been tagging along with them but we've increased the margin two medals today, ahead of them so that's very encouraging for us, slightly ahead of our Beijing total (at this point in 2008)."
Sunday saw another hugely successful haul for Britain in cycling, rowing, dressage, swimming and athletics, which saw a medal tally of seven gold, eight silver and three bronze.
Incredible
ParalympicsGB deputy chef de mission and performance director Penny Briscoe, added: "It was the magnificent seven yesterday, which was an incredible day in terms of gold medal return but it was an incredible day full-stop in terms of the overall medals delivered - one of our biggest single days in recent history.
"It has been a very exciting first four days of competition. "
Craig Hunter- ParalympicsGB chef de mission Quotes of the week
"That was a really positive continuation; we have had a great start to the Games.
"We are where we are on day four, we are ahead of where we were this time in Beijing and that's testimony to the performances that have been delivered."
Visitors
Perhaps helped by Britain's performance, the Games are proving a smash hit with fans, with the event set to welcome its one millionth visitor on Tuesday.
Around 10,000 extra tickets are being bought every day as soon as they go on sale, as Paralympic venues experience unprecedented numbers of visitors.
Ms Briscoe said: "We are feeling pretty confident and the performances worldwide have taken another step forward. We are part of an incredible Games so far in terms of the number of world records, Paralympic records, regional records.
"Critically, for the British athletes, there's a whole raft of personal bests. We are very much talking about the number of silvers being won, not golds being lost."