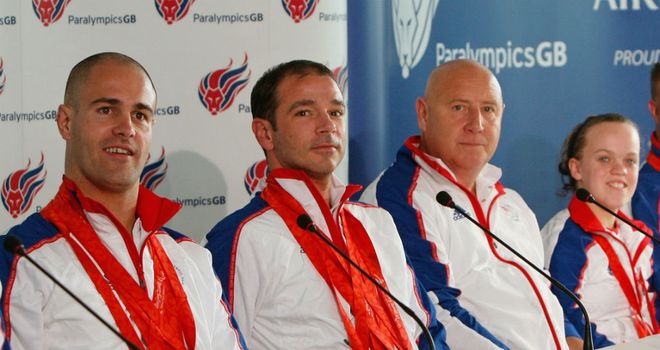 Britain won 42 gold medals at the 2008 Paralympic Games
UK Sport have set Paralympics GB the target of winning at least 103 medals from at least 12 different sports and an overall goal of again finishing second in the medal table.
Britain's Paralympic campaign for London 2012 has been backed by more than £49million of funding over the last four years, money which has been distributed to 18 different sports.
The overall Paralympics GB medal range is set between 95 and 145, with 16 sports targeting at least one spot on the podium.
Britain won 102 medals, including 42 golds, in Beijing four years ago to claim second place for a third consecutive Paralympic Games as host nation China topped the table.
Retaining that position, but winning more medals than four years ago, is seen by UK Sport as a bold ambition given the competitiveness of the Paralympic Games.
"Retaining second place on the medal table for the past three Paralympic Games has been a notable achievement for British athletes, especially given the ever-increasing competitive nature of Paralympic sport worldwide," UK Sport chief executive Liz Nicholl said.
"With more countries investing time and resource into Paralympic sport and therefore contributing to the medal table, maintaining this standard of achievement in London should not be underestimated.
"The collective targets of all the Paralympic sports announced today show us that our Paralympians are in a great position to deliver more magical and inspirational performances to keep the overwhelming sense of national pride in Great Britain at an all-time high.
"Our Paralympians are among the best prepared and supported in the world; with cutting edge technology, science and medical support, excellent coaching, and the support of our enthusiastic home crowds, they are sure to be a force to be reckoned with on home turf."