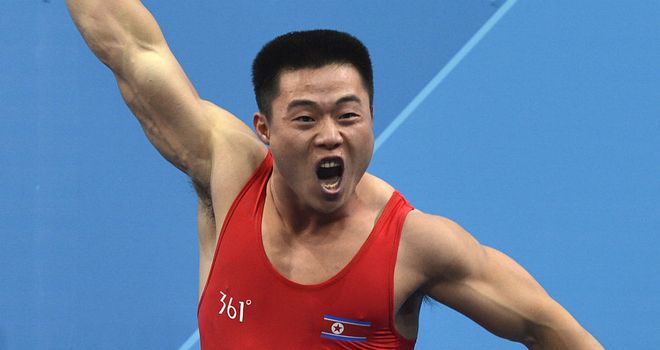 Kim Un Guk: Set world record in the process of winning gold
Kim Un Guk claimed gold for North Korea in a thrilling men's 62kg weightlifting competition which saw Olympic and world weightlifting records tumble.
The pre-competition build-up was dominated by talk of a duel between Kim and Chinese rival Zhang Jie, with the duo fighting for world titles over the last two years.
But Zhang was surprisingly pushed into fourth place as in-form Oscar Albeiro Figueroa Mosquera, from Columbia, took silver ahead of Indonesia's Irawan Eko Yuli on a lighter bodyweight after tying with their final totals.
Kim followed up a snatch of 153kg, which broke the Olympic record and equalled the world best, with a clean and jerk of 174kg, providing him with a stunning personal best total of 327kg, which also eclipsed both records.
The Olympic record for clean and jerk also fell at ExCeL as Figueroa Mosquera lifted 177kg to help rack up a total of 317kg, level with Eko Yuli, who had to settle for bronze again after doing so four years ago.
To add insult to injury for fourth-placed Zhang, it was his total world record which was eclipsed by rival Kim.