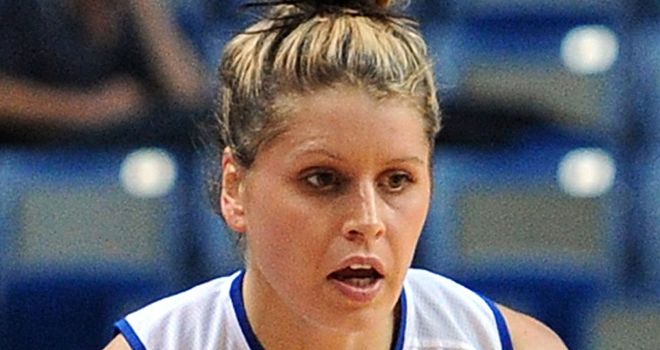 Jo Leedham: Top-scored with 23 points as Great Britain beat France
Great Britain women's basketball team showed tremendous fight as they recorded a massive confidence-building win over France.
Britain bounced back from Saturday's loss to Australia to mark coach Tom Maher's 50th game in charge with 74-67 victory over a team ranked eighth in the world.
The hosts had to rally from 10 points down in the second quarter and battled all the way through a close second half.
Jo Leedham scored 23 points and Natalie Stafford added 18, while Julie Page added nine and grabbed eight rebounds in a tough fight with France's big forwards, whom they will face again in their penultimate group game at the Olympics.
Closely-fought
After a closely-fought first quarter, Britain gave away an advantage with two defensive lapses late on.
Isabelle Yacoubou was left unguarded under the basket for an easy two before she was allowed to get the rebound from a missed free-throw, setting up Jennifer Digbeu to give France an 18-14 edge.
That was the start of an 11-0 France run that had them 24-14 ahead when Sandrine Gruda split a pair of free throws three minutes into the second quarter.
But Britain battled back, with Leedham making a three-point game, 26-23, when she added the extra point after being fouled when making a lay-up.
Chantelle Handy then sank a three before Temi Fagbenle tied it at 30-30 at half-time.
Tight start
It was a tight start to the second half but after Leedham gave Britain a 37-36 edge, France responded with a 10-2 run, thanks in large part to Yacoubou and Gruda adding extra points from the line after getting baskets under pressure.
However, during that run, they lost Digbeu to an ankle injury and she did not return.
Britain battled back and got a huge lift when Jeneya Wade-Fray made a half-court shot on the buzzer to make it 48-46 to the French at the end of the third-quarter.
Leedham then levelled the scores at the start of the fourth quarter and Page's lay-up had Britain ahead 52-50.
When Stafford scored on a reverse with 3:30 to go, the lead was 60-56.
Leedham stretched the lead to five, 65-60, with a lay-up 2:12 from the buzzer and they were up 68-61 on Stafford's three moments later.
Gruda led France with 17 points, Celine Dumerc had 13 and Yacoubou 11.