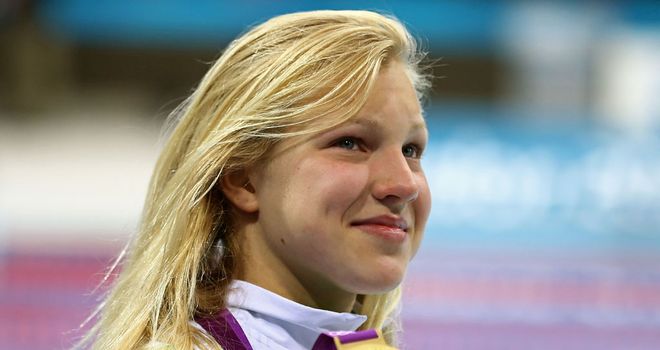 Ruta Meilutyte: Wants swimming to become more popular in her home country
Olympic swimming champion and British-based schoolgirl Ruta Meilutyte has admitted she tries to keep grounded by forgetting about her gold medal heroics at the London Games.
The 15-year-old also hopes that her performance at the Aquatics Centre will put a greater emphasis on sport in her home country of Lithuania.
"I want swimming to become more popular in Lithuania, that's my dream. "
Ruta Meilutyte Quotes of the week
Meilutyte, who arrived in England three years ago to pursue a career as an athlete, says she has benefited from the sort of multi-million-pound facilities in her adopted city of Plymouth that her homeland can only dream of.
The youngster was the unlikely winner of the 100m breaststroke, claiming Lithuania's first Olympic gold in the pool, having trained at the new Plymouth Life Centre in the run-up to the competition.
Meilutyte was given a hero's welcome after the Games when she returned to Lithuania, a country where swimming barely registers on the sporting scale, she said.
Dream
Asked whether she considers herself a national hero in Lithuania, Meilutyte said: "No, I just consider myself a normal girl really. I don't like thinking that I have won a gold medal, I just want to do what I have been doing before.
"How do I keep motivated? There are still loads of things I want to achieve. I want swimming to become more popular in Lithuania, that's my dream. Swimming isn't as popular as it is in England.
"Basketball is like a second religion in Lithuania, most other sports are in the shade. I am trying to tell people that other sports need to have the money.
"Plymouth Life Centre is an amazing pool and we don't have that in Lithuania, I am trying to get people's attention."
Standing ovation
Recalling the Lithuanian homecoming, she added: "It has been absolutely crazy, I was never expecting so much attention but they made a huge reception for me. There were thousands of people there. It made me really proud."
The teenager is studying for GCSEs at Plymouth College, where British diving sensation Tom Daley is also studying for his A-Levels. The duo, together with fellow pupils and Olympic athletes Jade Howard from Zambia and Uganda's Jamila Lunkuse, received a standing ovation from youngsters at the start-of-term assembly.
Meilutyte said: "It is not an easy task to do your school when you train twice a day, but that's what us swimmers do.
"My target is hopefully to make Rio (host of the 2016 Games), to be my best and train as hard as I can."