Double Olympic champion Kelly Holmes insists Hannah England can follow in her footsteps to overcome her injury problems to bag a medal at London 2012.
England, a surprise silver medallist in the World Championships last year, trailed in last in her first race since May 27 in the 1,500 metres at the Aviva London Grand Prix on Friday.
The 25-year-old suffered a spiked Achilles while winning her previous race in Holland, forcing a long recovery process which included five days in hospital and being banned from standing for more than three minutes at a time for two weeks.
It was therefore no surprise that England faded badly in the final 300m at Crystal Palace to clock a time of four minutes 14.45 seconds, but Holmes knows from her own experience that all is not lost.
"What I am telling her at the moment is that she still has time, that it is not over till it's over," said Holmes, who won gold in the 800 and 1,500m in Athens in 2004.
"Championships are different and once you are in the final it is a lottery. Hannah is a championship performer, as long as she can get the confidence that comes with the training."
Kelly Holmes on Hannah England's Olympic chances Quotes of the week
"Two occasions before the Olympic Games things have gone horribly wrong for me, so I can relate to Hannah. In 1996 I found out I had a stress fracture in Tallahassee two weeks before Atlanta, still ran it and came fourth. But on that occasion I was fit, had done the training and believed I could do it.
Sydney
"The one that is the most comparable is Sydney in 2000 when I tore my calf in January and had only six weeks track work that year and I came back with a bronze medal and might have had gold if I hadn't looked up at the screen and thought 'Oh my God I'm in front'.
"Even though I had not been running I was fit because I'd been doing pool work, in the gym, had belief, was confident that I could be there, comfortable that I had the experience, knew how to race. So as long as I could get some running in I'd be okay. Same as Hannah.
"That is the key and so Friday's race was the first step back for her. You can't simulate racing in training. Racing's what she needs. It's not a worry that she only ran 4:14 because it was the way the race was run, the pace at 800m.
"She may have felt there was nothing left in the last 300m but that is because she hasn't done the speed endurance stuff recently. That will come back because she showed she had it before for that race."
Twelve women have run under four minutes for the 1,500m in 2012, but Holmes does not feel times will count for anything when the Olympics comes around.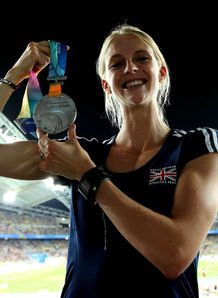 Hannah England: Surprise silver in Daegu
Times
"Every single year you always see some amazing times just before the championships in trials and one-off races. But the Olympics and championships are different," added Holmes, who mentored England through her 'On Camp with Kelly' project.
"You have to go through the rounds. There is the environment which can overwhelm you, the expectations on someone who has done a very fast time have risen and they don't run well....
"It's different to run fast with a pacemaker in a one-off than when it is slow and you have people around you in your heat for whom it is their final and they are running out of their skin. [Suddenly] it all goes horribly wrong for the top people because they thought they could just go through the motions but they don't make the final.
"Championships are different and once you are in the final it is a lottery. Hannah is a championship performer, as long as she can get the confidence that comes with the training.
"If she had only been in 4:08 or 4:09 shape earlier in the year you might question whether she has time, but she was better than that. She ran 4:04 in spite of getting the injury (in Holland) so probably she was in 4:02 shape back then. That is the shape she is coming off now."