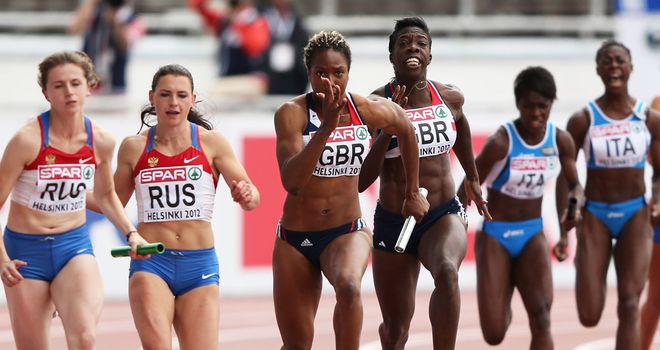 Great Britain (C): Disaqualified for lane infringement
Great Britain will not have a women's 4x100 metres relay team at the London 2012 after their quartet were disqualified from the European Championships and overtaken in the world rankings.
Only the top 16 nations in the world qualify for Olympic places and Britain arrived in Helsinki ranked 15th and coming under pressure from the likes of Poland and Switzerland.
Poland ran 43.13 seconds to reach the final and Switzerland recorded a national record of 43.51s to move ahead of Britain, who finished second to Germany in their semi-final but were disqualified.
The team of Anyika Onuora, Montell Douglas, Hayley Jones and Ashleigh Nelson were penalised for a lane infringement.
"We have been underperforming in this area for more than 10 years and at one point you don't get away with it."
Charles van Commenee Quotes of the week
That result was Britain dropped to 17th in the rankings with an average time of 43.675 - rounded up to 43.68 by the IAAF - with Switzerland reducing their average to 43.66.
"It was always an accident waiting to happen that didn't happen here necessarily, it is a process over a number of years," UK Athletics head coach Charles van Commenee said.
Underperforming
"We have been underperforming in this area for more than 10 years and at one point you don't get away with it.
"I'm not really surprised, that's why I stopped the programme basically two years ago. I decided after Barcelona not to support the female relay athletes financially any longer because I didn't think they were going to be dangerous in London."
Great Britain's men's sprint relay team had no such progressing to the final, the team of Christian Malcolm, Dwain Chambers, James Ellington and Mark Lewis-Francis setting the fastest time in qualifying (38.98s).
Former Olympic relay gold medallist Lewis-Francis felt his career could be over earlier this week after failing to reach the 100m final and claiming he did not have "a chance in hell" of being selected for the relay.
However, an injury to 100m finalist Harry Aikines-Aryeetey handed the 29-year-old from Birmingham another chance.
"I was really low after the 100m, it's been a terrible year. These guys have lifted my spirits and given me hope that I might still get into the Olympic Stadium," he said.