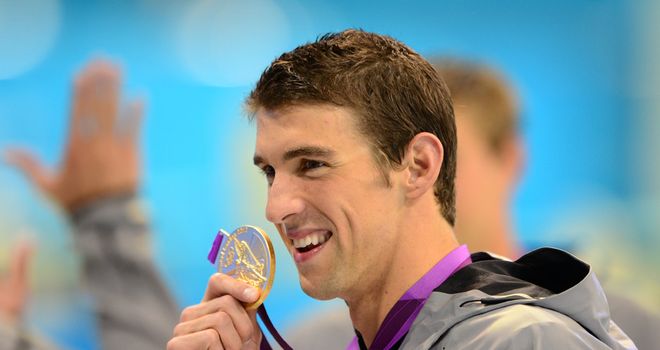 Michael Phelps: Won his 18th Olympic gold medal and bowed out on a high
And so farewell, Michael Phelps -- the Flying Fish, the Baltimore Bullet -- who splashed his size-14 feet and 6ft 7ins wingspan through the water for the final time in competition on Saturday evening in London.
As he left the pool, and walked straight through the zone where reporters wait for snatched conversations, he told the US team's press attaché: "Better go do the last warm down." And off he went, dripping water.
Phelps had just won his fourth gold medal of these Games, in the men's 4x100m medley: the 18th Olympic gold medal of his career and 22nd medal of any colour, from Athens to Beijing to London.
All of which meant that, on Saturday evening in the pool, we were witnessing the final bow of a legend on a par with Carl Lewis or Steve Redgrave, though there is a strong argument that, on medal count alone, he is the greatest Olympian of all time.
And yet it was all so low key. Not so much in the Aquatics Centre itself, which filled with people and noise and appreciation for Phelps, but there were no laps or lengths of honour, no bouquets, just some tears on the podium and some blown kisses from the American fans in the stands. There seemed to be admiration and awe rather than love and affection.
Historic
Being in this arena is like being inside the belly of a whale. It has a beautifully curving, swooping roof that is somehow reminiscent of a whale's underbelly. On the outside, it protrudes into the Olympic Park, like a giant tongue.
The atmosphere was as raucous as it has been every night, but that's the point. "Come on people, this is the final night of the swimming at the Olympics," said the announcer at one point, as though urging them to acknowledge that they were bearing witness to an historic moment.
Perhaps it didn't help that a stone's throw away, in the Olympic Stadium, was unfolding arguably the greatest night in British athletics' history, the roars from which occasionally penetrated the arena that stands closest to it. In the swimming pool, there was a nagging feeling that we were missing out on something.
Yet Phelps did what he had to do, swimming the butterfly leg of the relay to put his team in the lead, and on course for gold. Earlier, he had addressed his teammates -- a rare occurence, they said later. "I said to them, 'We all want to win, let's go out and do it,'" Phelps recalled. "We were excited. We were going to end like we always end."
After the race, Phelps' fellow swimmers were quizzed about Phelps. And the big question was: does he mean it? Is he really retiring, or will he be back for Rio?
Pain
But they were also asked what he was like. "He's a joy to have at practice," said one. "When I'm hurting I can deal with it because I know he's gone through that pain many times before me."
"Watching Michael swim is beautiful," said another. "You can tell he was meant to do it. We're all going to miss him so much."
"I'd be ecstatic if he came back," said another. "He really has opened up our sport, and let the world know that swimming is a sport."
Eventually the man himself appeared, still looking a bit like a big, goofy teenager. But before he was asked if he meant it, he was asked why he was bowing out when he is still at -- or close to -- the top of his game. "I told myself I never want to swim when I'm 30," said the 27-year old. "No offence to those people who are 30. But I don't want to swim another three years.
"And I've been able to do everything I wanted." This was the crucial point. He and his coach, Bob Bowman, have, he said, "managed to do every single thing we set out to do, and I think if you can say that about your career, it's time to do other things.
"It's kind of weird looking at this and seeing [myself described as the] greatest Olympians of all time," Phelps continued. "I've looked up to Michael Jordan my whole life, the greatest basketball player who has ever played the game, and I said to Bob tonight: 'I've become the greatest swimmer of all time,' and I thanked him. He said, 'That's not fair: you're wearing goggles.' Because the tears were streaming down his face.
"I love him to death, and I'm thankful I have someone who cares for me, and who has put up with all my crap over the last 15 years."
Bang
Once Phelps had disappeared, his teammates were asked if they thought he was serious about retiring. "Yes," said Matt Grevers.
Before he left, Phelps was asked what he would write in the journal he keeps. "Just a few words: 'I did it.'"
His final outing did seem low key, but maybe that is the way to do it. These Olympics have been Phelps' retirement Games, which meant that he went out without the bang with which he could have gone out in Beijing, where the quest for eight golds made his campaign relentless, stressful, and -- ironically -- quite joyless.
Here in London Phelps has been liberated from chasing an impossible target; he has seemed relaxed. He has won a couple of medals that were silver rather than gold, and looked happy. He hasn't pouted on the podium, but instead proved himself to be the most gracious of losers. Despite not hitting the heights of Beijing, he leaves the sport with his reputation enhanced.
He did it.
Now for the serious business in the Aquatics Centre: the synchronised swimming gets underway on Sunday.