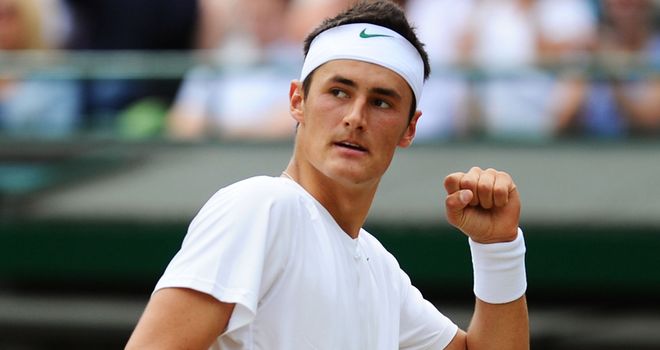 Tomic: Australian will be targeting tennis gold at London 2012
Skysports.com picks out ten rising stars to keep an eye on at the 2012 London Olympics.
1. OLGA KHARLAN
The Ukrainian fencing sensation was just 18 when she almost single-handedly inspired her team to beat hosts China for Olympic gold in 2008. A former dancer and occasional model, Kharlan is regarded as a genuine superstar in her home country.
2. VIKTOR AXELSEN
The 17-year-old Dane is turning badminton's traditional power-base on its head. He was the first European ever to win the world junior title in 2010 and also claimed his first senior crown in Cyprus at the age of just 16.
3. CHRISTOPHE LEMAITRE
The 21-year-old Frenchman is seen as the biggest threat to the big-name 100metre sprinters like Usain Bolt and Tyson Gay. With a personal best of 9.95 seconds, Lemaitre has run faster than Asafa Powell did at the same age.
4. JOE WARD
Ward is the latest potential star to roll off Irish boxing's phenomenal production line. He beat Beijing silver medallist Ken Egan in the domestic championships and went on to claim the European light-heavyweight title in June 2011 at the age of just 17.
5. ALISE POST
Nicknamed 'The Beast', the American BMX prodigy has come a long way since her first junior race when she refused to leave the start-gate because she was too scared. Ruled out of Beijing due to her age, the 20-year-old will be ready to shine in London.
6. BERNARD TOMIC
Australia's teenage tennis sensation made his mark at Wimbledon in 2011 when he became the youngest player since Boris Becker to reach the quarter-finals. With an ego to match his stunning talent, Tomic is on his way to becoming a big name.
7. FANNY FISCHER
German Fischer's aunt Birgit is arguably the greatest canoeist of all time having claimed 12 Olympic medals. Fanny - whose mother was also an Olympic swimming champion - picked up where she left off by claiming gold in Beijing in 2008.
8. JORDYN WEIBER
As superstars Shawn Johnson and Nastia Liukin approach the end of their careers, the search is on for the next big thing in American gymnastics. It could be Weiber - a smart 16-year-old who won four golds at the 2011 World Cup in Jacksonville.
9. SUN YANG
Even mighty Michael Phelps is in danger of being eclipsed by this 6ft 5ins Chinese teenager, who set world-leading times in the 200m, 400m and 1500m in 2011. In the latter event Yang came within one second of the oldest record in the sport.
10. DARYA KLISHINA
The Russian long-jumper is a former world youth champion who went on to claim European Indoor gold in Paris in 2011. With a personal best of 7.03m, the 20-year-old is expected to be a major contender.