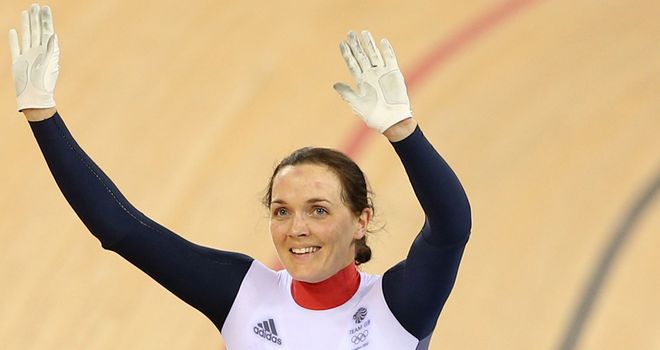 Pendleton: Edged out by Meares
Great Britain's Victoria Pendleton was denied a golden goodbye and third Olympic title in dramatic fashion as her perennial rival Anna Meares claimed sprint gold inside the London Velodrome.
After watching Laura Trott become a double Olympic champion with victory in the omnium, Pendleton met Meares in the best-of-three final in a repeat of the 2008 gold medal race which the Briton won.
The 31-year-old was aiming to finish her career on a high with a third gold - a record for a British female - and her superior pace saw her cross the line first in the opening bout, but she strayed from the sprinting lane under pressure from Meares and commissaires awarded the Australian victory.
Pendleton finishes career with a Silver
Pendleton had to respond in the second to force a decider and Meares moved in front first and came to a near halt at the end of the first lap, forcing Pendleton to the front.
As they entered the final circuit, Meares rounded Pendleton on the outside and the Briton could not respond as the 10-time world champion punched the air in celebration shortly before the line.
That result ended hopes of a fairy-tale conclusion to Pendleton's sensational career, and saw Meares take revenge for Beijing.
Meares shed her visor in celebration before joining hands with Pendleton as the 2008 winner and reigning world champion paid tribute to the victor.
Pendleton was in tears as she removed her helmet, and the Team GB mechanics and support staff were also tearful as Pendleton took a bow in the back straight to acknowledge the partisan support as her stellar career came to an end.
Overwhelmed
A still-emotional Pendleton told the BBC: "I'm just so relieved right now - I've been a bit overwhelmed with emotion.
"I would have loved to have won on my final race but I'm just so glad that's it all done and I can move on."
She also paid tribute to Meares, who has been her main adversary throughout her career, and it was perhaps fitting that she bowed out against the Australian.
"I'm glad that it got to that stage," Pendleton added. "I think she's the best rider in the field and it's the way that it should have been.
"Everything turned out right with Anna and myself in the final. She's a fantastic competitor, we've met many a time, and I wish her all the best but I'm very glad to be saying that's the last time I have to go through that."
On her relegation in the first race, she added: "I was really annoyed because I'm sure that she touched me and it caused me to move up.
"I can't believe, twice in one competition, I've been disqualified and relegated, it's unheard of. It's a bit of a surprise, it did knock my confidence a bit I must say."
In the night's third-placed decider, China's Guo Shuang won bronze with a 2-0 defeat of Kristina Vogel of Germany.