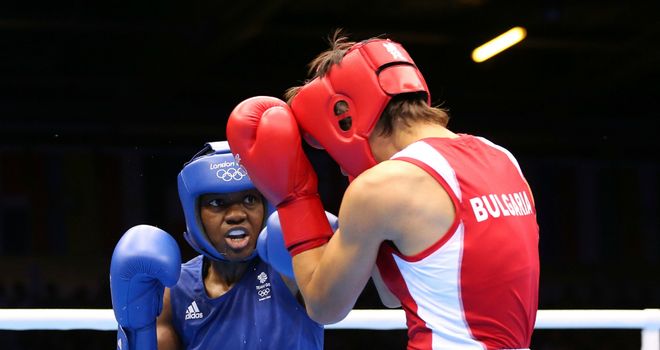 Nicola Adams: Backed for gold medal
Nicola Adams has all the talent to claim a boxing gold medal, according to Great Britain head coach Rob McCracken.
Adams guaranteed Britain's first Olympic women's boxing medal with a superb 16-7 win over Stoyka Petrova of Bulgaria but the Leeds fighter now faces a major battle against the five-time world champion Mary Kom from India on Wednesday.
McCracken said: "It is a big, big fight. Mary Kom is a tremendous boxer and it is going to be a difficult bout. But Nicola is bigger than her and if she performs like she did in her last bout, then she will do it."
Kom, whose world titles came at the lighter 46kg limit, has thrilled the ExCeL crowd with her two performances so far, clattering Poland's Karolina Michalczuk 19-14 and guaranteeing a medal with a 15-6 win over Marou Rahali.
But Adams holds a 13-11 win over Kom from last year's World Championships and will be confident of moving through to the final and a chance of more acclaim for the pioneering path she has cut in her sport.
McCracken added: "Nicola boxes with a smile on her face and she is a tremendous ambassador for women's boxing. She's already told me she wants to go to Brazil and I have no reason to doubt it. She loves the sport and hopefully she will go all the way."