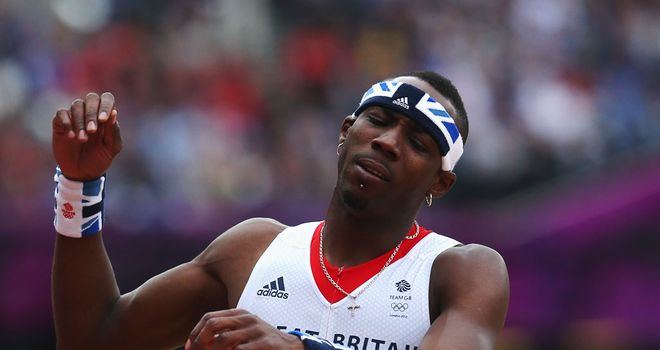 Phillips Idowu: Rusty after injury lay-off
Phillips Idowu failed to make it into the final of the triple jump at London 2012 after finishing 14th in qualifying.
With the top 12 jumpers going through to Thursday's final, Idowu missed out with a best of 16.53m, well down on his personal best.
"I've competed for 12 years and I can't remember when I've performed that badly. "
Phillips Idowu Quotes of the week
The Briton, who won silver in Beijing four years ago, came into the Games under an injury cloud following reports of a hip injury and, more recently, a trapped nerve in his knee.
Idowu only came into the Olympic village on Sunday after undergoing intensive rehabilitation elsewhere, apparently cutting off contact with UK Athletics.
The controversial athlete had not competed since June 2 and it showed on the track, with the 33-year-old not moving fluently as he initially leapt 16.47m, down on the official qualification mark of 17.10m.
After a no-jump on his second attempt, Idowu improved his mark by 6cm, but it wasn't enough to progress.
Rusty
"I felt okay, I saw my physio this morning and felt pain free, which was nice," said the former world champion. "I thought I could have possibly qualified automatically.
"I knew I would be rusty because it's been a while since I've competed. The conditions were a little bit difficult with the wind, but that wasn't me out there today.
"I've competed for 12 years and I can't remember when I've performed that badly.
"I'm guessing I'll most likely need surgery at the end of the season, I'll probably call it a day now and wrap up the season. The goal was to battle for the Olympic gold medal but it's not to be."
Idowu clarified the issues surrounding the past month, and his injury situation that he apparently kept from UK Athletics chief Charles van Commenee.
"I've been travelling from Birmingham to see my physio," he added. "After pulling out of Crystal Palace I had a nerve pain shooting down the side of my back, through my hip and into the side of my knee.
"I went to see my physio and we decided to stay in the UK for that week - it was great and things were going well, we've had some great sprint and technical sessions, but coming in off a full run-up is a different kettle of fish.
"My timing wasn't there and I couldn't get my final phase together."